A dedicated facility that focuses on researching, developing, and testing Internet of Things (IoT) technologies and solutions is known as an Internet of Things (IoT) lab within a Center of Excellence (CoE). It acts as a center for IoT innovation, teamwork, and information exchange. Infrastructure has been installed in the lab to facilitate IoT testing and development. This includes various IoT devices and sensors, servers, cloud platforms, data storage, and high-speed internet connectivity. In general, an IoT lab within a CoE is a crucial facility that fosters IoT-related research, development, and collaboration. In order to explore the revolutionary potential of IoT in various industries, it serves as a knowledge hub, giving knowledge, resources, and a platform. The idea behind the Internet of things is to have devices that self-report in real-time, enhancing efficiency and bringing crucial information to the fore faster than a system that relies on human involvement.
Department of Computer Science and Engineering at B V Raju Institute of Technology, Narsapur Orchid Campus, has developed a Center of Excellence (CoE) for the Internet of Things (IoT).  The CoE's vision is to enable the division to serve as an innovation hub for the Internet of Things by democratizing innovation, standardization, and product realization before IoT devices are made available to the general public, as well as by supporting initiatives on IoT solutions for India-specific needs in sectors such as water, energy, agriculture, health, security, and data privacy.
To improve the comprehension, creation, and implementation of IoT technology and solutions is the goal of an Internet of Things (IoT) lab within a Center of Excellence (CoE). The lab wants to serve as a hub for IoT innovation, investigation, and cooperation. The lab is dedicated to doing ground-breaking research and encouraging IoT innovation. Through the investigation of new trends, the creation of fresh ideas, and the development of innovative solutions, it seeks to push the limits of IoT technology. The lab wants to work together with business partners, tech suppliers, and subject matter experts to solve practical problems and hasten the adoption of IoT. The lab's goal is to inform and raise awareness of IoT across a broad range of stakeholders.
To develop cutting-edge applications and domain expertise for the demands of the nation, including those of smart cities, smart manufacturing, smart agriculture, and others.
To create an entrepreneurial ecosystem, start-up community, and talent pool capable of working in the industry.
To create an environment that supports entrepreneurship and innovation.
By offering neutral and interoperable, multi-technology stack laboratory facilities, it is possible to boost the research mindset and lower R&D costs.
To encourage indigenization and lessen reliance on imported IoT components.
To establish India as an end-to-end engineering solution provider.
To create a setting for the development, testing, and validation of products.
Training / Research or Academic Projects
Academic Projects: Application of IOT in smart irrigation system
Academic Year (2021-2022) – III Year
| | |
| --- | --- |
| Student Roll No | Student Name |
| 19211a0599 | Keerthana |
| 19211a05a0 | Akshitha |
| 19211a05a2 | Yashwanth |
| 19211a05b3 | Krishna |
| 19211a05b4 | Pravalika |
Project Title: Application of IOT in smart irrigation system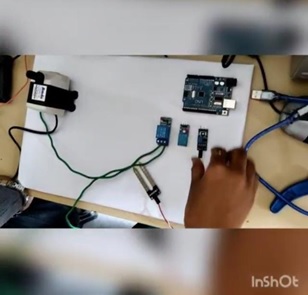 Academic Year (2022-2023) –  II Year Students
| | |
| --- | --- |
| Student Roll No | Student Name |
| 21211A0585 | Alekhya Gandham |
| 21211A0582 | Gaberial Emmanuel |
| 21211A0569 | Deepthi |
| 21211A05B2 | Koteshwar |
Project Title: Smart Parking System using IoT.