Inauguration of 341 kWp Grid-tied Rooftop Solar PV Power Plant at BVRIT
Harnessing the Solar has always been the one of its key drivers at B V Raju Institute of Technology in its Go Green initiatives with the installation of rooftop solar photovoltaic plant on their buildings. BVRIT would be harnessing solar power to the tune of over 450 kWp solar power from this month onwards.
In its pursuit to become energy efficient, B.V.Raju Institute of Technology (BVRIT) of Sri Vishnu Educational Society, Narsapur, Medak Dist, Telangana formally commissioned a total of 341 kWp Solar PV Plant on 7th of July, 2018 in addition to existing 100kWp Solar Plant. The plant consists of a total 1083 PV modules each of 315Wp supplied by RenewSys India Private Limited, Hyderabad, installed at rooftop of Visveswaraiah Block BVRIT. The entire project is executed by EPC contractor, M/s. Avghni Renewable Energy System India Private Limited, Hyderabad.
Speaking about this eco-friendly initiative, Sri K V Vishnu Raju, Chairman, Sri Vishnu Educational Society said during inauguration "The purpose of installing the plant at BVRIT is to extend the green technology into the campus and also to overcome the energy crisis". "Alternative sources of energy have assumed considerable significance in the context of fast depleting conventional sources such as coal, oil, gas and so on. Photovoltaics (PV) are expected to occupy a progressively increasing proportion of the energy portfolio of the country" he added. Sri Ravi Chandran Rajagopal, Vice chairman SVES, mentioned overall Solar Plant capacity in SVES group institutions reached more than 1 MWp capacity.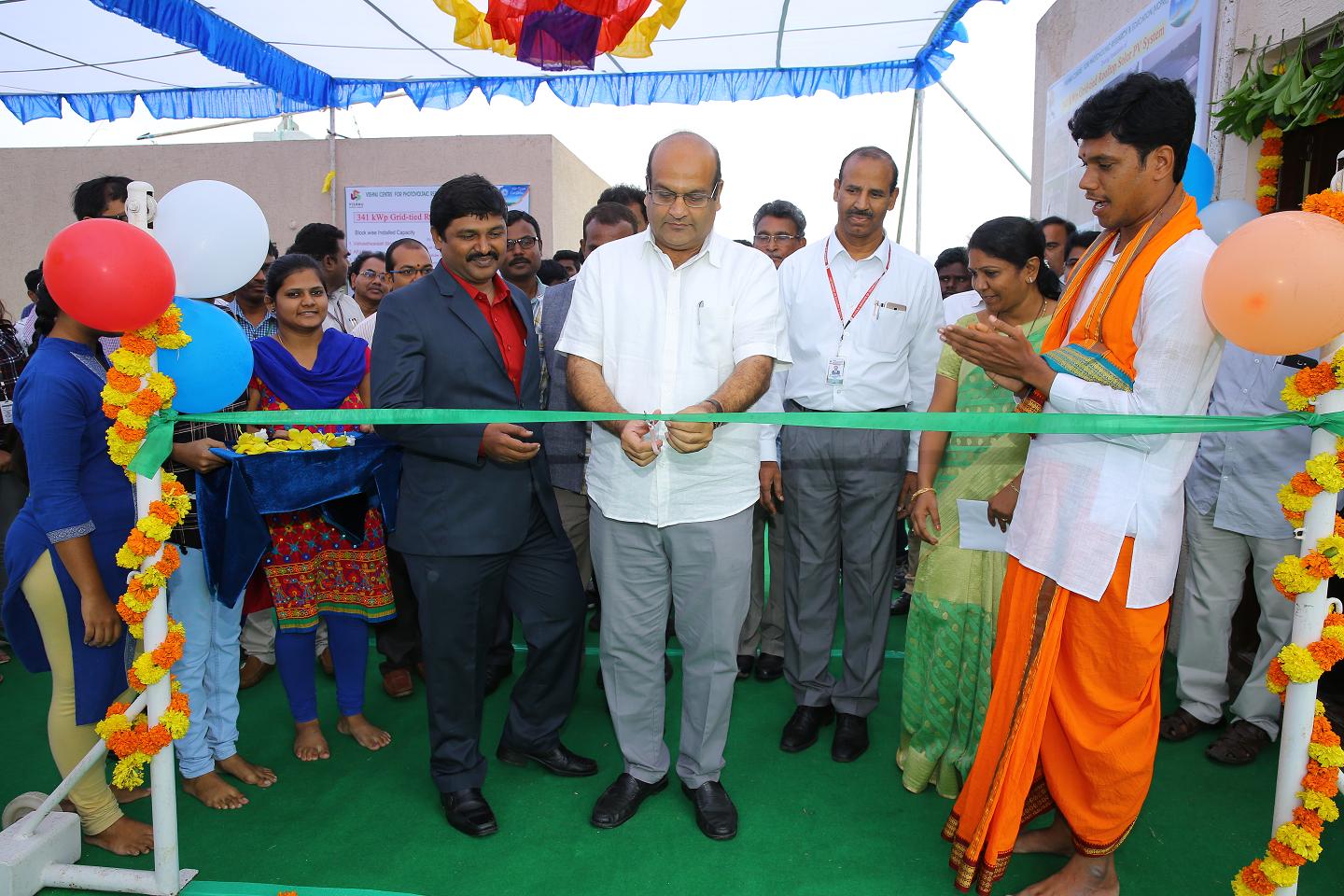 "This project is installed under Jawaharlal Nehru National Solar Mission (JNNSM) program through Telangana State Renewable Energy Development Corporation Limited (TSREDCO), the total project cost is Rs. 2.01 crores. Ministry of New and Renewable Energy (MNRE), Government of India, New Delhi provided a subsidy of 30%" Mr.V.Prasannewar Rao, Managing Director, Avghni Renewable Energy System India Private Limited said. Further, few faculty and students of BVRIT were involved right through the installation and commissioning phase of the project and gained hands on experience in putting together the different modules of the rooftop solar power plant.
Mr. N. Ramchander, the Project Engineer (Solar Projects) at BVRIT said "BVRIT is having expertise in the field of Solar Energy since the year 2004 and the college is known for its green energy and energy efficiency initiatives. In addition, BVRIT is having a complete Solar PV Testing Laboratory in collaboration with Elkem Solar Norway and is also working with National and International collaborative projects. This new solar plant will generate more than 5.2 lakh units every year. Average monthly power generated is approximately 42900 kWh. The plant provides substantial cost savings on the power consumption for the College and it will reduce CO2 emissions 420 tons per year".