To become a center of excellence in creating quality of video lectures for Engineering professionals embedded with software knowledge and ethical values to cater to the needs of industry and society.
The department of Vishnu Audio Visual Centre is committed to:
M1: to create remarkable videos that help share knowledge and information with engineering students.
M2: To create high-quality professional training videos to get expertise in modern software tools and technologies to cater to the real-time requirements of the Industry.
M3: To provide an e-learning education that transforms students through rigorous coursework by providing an understanding of the needs of society and industry.
Inaugural Session of Vishnu Audio Visual Centre
Inaugurated by


Sri. K. V. Vishnu Raju, Chairman, SVES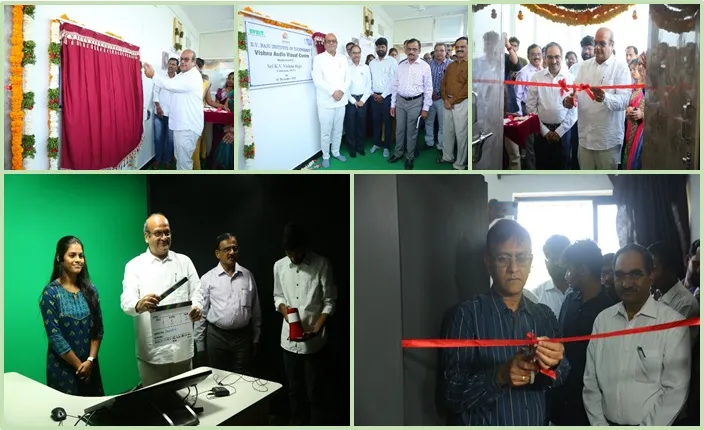 The attractive features of ICT in education and the many advantages that help in the successful use of these technological resources can offer larger scope to the educational disciplines. full utilization of these technology resources in engineering educational content delivery, the great opportunities that ICT can offer, and actions that can be taken to overcome the challenges are exemplified in developing the quantitative nature of engineering discipline, Opportunities available for full utilization of ICT facilities VISHNU AUDIO VISUAL CENTER facilitates the wide availability of computing resources in the delivery of course content. ICT knows the upgraded demand of the young generations. Therefore, it takes action for proper utilization of ICT resources in engineering education and blended Mode of learning, which combines online learning with suitable modes for engineering educational content delivery.
The objective behind launching VISHNU AUDIO VISUAL CENTER is to provide a wider scope of teaching-learning activities like content creation, knowledge management, and knowledge organization of Information through Communication Technology (ICT). In addition, the technical features of ICT allow customizing Film making and video-capturing lectures to meet the demands of upgrading academic and technological demands in the industry. Considering the recent major shifts in the learning paradigm, these innovations were deployed in an ongoing, real-time basis in our educational campus. Technology based virtual learning approach is aimed at stimulating students' interest in learning not only in the engineering curriculum but enhancing and integrating the life skill required for professional and employability skills.
It is facilitated in three main core perspectives:
1. Video recording theatre: Videos are recorded with well-equipped higher digital cameras enhancing the quality learning experience using multimedia at any time.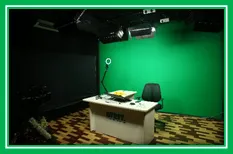 2. Live recording theatre: It caters to and provides live captured sessions of faculty making them available 24/7.
3. Media center: Its functions are to edit the recorded footage integrating the high standard and quality audio and video requirements with the latest updated software technology.