B.Tech Computer Science and Engineering (Data Science) or Bachelor of Technology in Computer Science and Engineering with a specialization in Data Science is a four-year undergraduate degree programme with 8 semesters. The Department of B.Tech CSE(Data Science) has started in the year 2020 with an intake of 60 students. Now, the intake is increased to 120 Students. This programme provides the students to understand the fundamental concepts of Computer Science & Engineering with specialized engineering knowledge in the areas of Data Science. Through this Data Science course, students will learn how to combine various techniques and tools to extract insights from their raw data.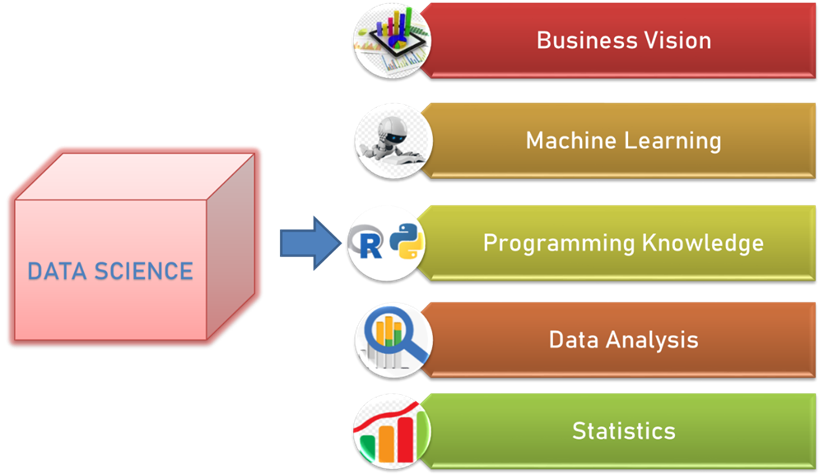 It is a relatively new field of study that investigates how to extract knowledge from both structured and unstructured data using scientific methods, procedures, and techniques drawn from a variety of disciplines.  The skillset required for every graduate is in Statistics, Data Analysis, Programming Knowledge, Machine Learning and Business Vision. The Department provides an excellent environment for research, which is supplemented by excellent Instructors with their extensive teaching and research backgrounds. The department is collaborated with Industry-Institute Engagement by identifying emerging areas, participating in sponsored research initiatives and consulting services.
B.Tech in CSE (Data Science)
Minors in CSE (Data Science)
Data Science Significance:
Over the last ten years, data science has emerged as one of the most dynamic, high-growth, and rewarding careers in Industries. In addition to introducing fundamental technologies such as AI, data mining, and data modelling, this course enables a strong emphasis on Data Analytics, Machine Learning, and Big Data Analytics. Students graduate with these advanced cross-disciplinary skills will be qualified to work as Data Analysts, Data Engineers and Data Scientists as their career opportunities in the fields such as Healthcare, Business, E-Commerce, Social Networking, Transport, Manufacturing and Banking sectors. This program's main goal is to teach students how to think mathematically and statistically, as well as how to learn about and comprehend knowledge.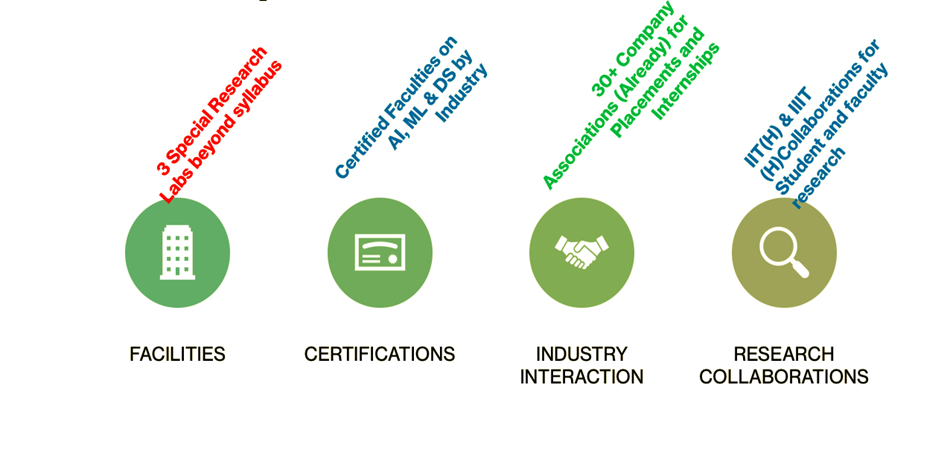 CSE (Data Science) program provides a student with core concepts of computer science as well as data analytics.
This course also provides engineering and problem-solving skills using computational methods.
Candidates will have an opportunity to learn principles, tools, and techniques to model various real-world problems, analyze them, and discover useful information.
Candidates are encouraged to suggest solutions that support decision-making using suitable data visualization techniques.
Design assignments, Projects for every semester.
Bright Career Prospects, Placements, And Internships.

Data science and artificial intelligence are revolutionizing the business world, ranging from small businesses or start-ups to large multinational companies, and even public administrations. Internships and placement as data scientists, data analysts, and data engineers will be made easier by the institution's placement cell, industry partners, and alumni network. The programme is designed to prepare students for jobs and internships in prestigious data science firms like Capgemini, IBM, Oracle, Publicis Sapient, and Wipro Ltd., as well as in industries like finance, business, economics, and healthcare. The institution also offers study abroad programmes through partnerships with overseas colleges. Students who have successfully completed three years of the B.Tech. programme may choose to enroll in an integrated Master's programme at a partner university.
Industry Specific Roles in Data Science: