Assistive Technology Lab (ATL) is the innovative initiative of Sri. K.V. Vishnu Raju, the Chairperson of Sri Vishnu Educational Society and was set up under the guidance of Prof. Alan Rux in collaboration with University of Massachusetts, Lowell, USA Started in 2009. ATL works for a unique and noble cause by designing projects that will make a difference in the lives of people with disabilities. This is a small but definite step to mainstream people with disabilities into society.
It is intended to be a real-time platform for the students to learn and experience the engineering design process, to apply their academic skills in a real-world context, and develop important workplace skills not usually taught in the classroom.

To ensure that people with disabilities have access to appropriate technology
To ensure students & faculty serve society by working on social problems
To inculcate the nature of participating in international & National competition
To facilitate the students to work on genuine societal problems with interdisciplinary knowledge
Make successful products that are innovative and impactful and low cost
To encourage students to showcase their talent globally by participating in competitions and hackathons
 
Professional Society Membership
Assistive Technology Lab B V Raju Institute of Technology is the institute member of  "Rehabilitation Engineering and Assistive Technology Society of North America – RESNA".
Telangana State Innovation Cell (TSIC), Hyderabad
Objectives
To promote exposure to Assistive Technology, TSIC will issue Joint Certificates for the courses offered by Assistive Technology Center
Facilitate the innovation of faculty and students by way of idea validation, visibility, hackathons etc.
Facilitate faculty and students with Idea Validation, Innovation Mentoring, building collaborations, Prototype Building, and Supporting funding access
Identification of the development projects, fixation of time frame and allocation of resources Including financial to the extent of feasibility.
Students will have internship opportunities to carry out various objectives of TSIC in the areas of Assistive Technology and other projects.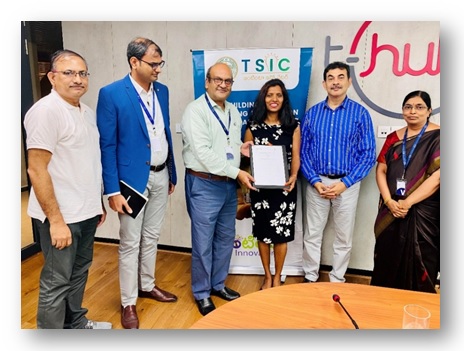 Sevanth Gajula, Aramandla Sravanthi, Rohith Sirpa "Indian Sign Language Detection Using Inceptionv3 Model" RESNA Annual Conference – 2023
Devasani Praneeth, Rohith Sirpa, H Sujana, Pandurang Mirajkar "A Study and Development of AAKAR VARANDYAY: A Learn Tool for Autistic Children" RESNA Annual Conference – 2023
H Sujana, Rohith Sirpa Mirajkar, Pandurang, Ganitha Sahaya- Math Tool for Special Education, 2nd International Conference on Emerging Trends in Engineering (ICETE 2023)
H Sujana, Mirajkar, Pandurang, & Rohith Sirpa, (2021). IOT-ENABLED AIR QUALITY MONITORING SYSTEM USING ESP8266. SPAST Abstracts, 1(01). https://spast.org/techrep/article/view/498
Patent Filed "HANDS-ON LEARNING DEVICE FOR TEACHING SHAPES AND COLORS" India Patent Application No: 202341041728



ATL, BVRIT Narsapur two papers got selected for Student Scientific Paper Competition, RESNA 2023 Annual Conference.  ATL BVRIT Narsapur faculty Mr. Rohith Sirpa and student Mr. Sevanth presented their paper at RESNA 2023 Annual Conference, New Orleans, LA, USA on 24th July 2023.
ATL Project "Touching Math" is selected as top 35 and pitched at Arohan Social Innovation Awards 2023 conducted by Infosys Foundation on 17th Jue 2023.
ATL Project "Touching Math" won 2nd prize at ANVESHNA 2023 Competition on 11th Feb 2023
ATL Project BrallieLearner is selected for exhibiting in Startup Stage in BioAsia 2023 from 24th -26th Feb 2023.
8 ATL Projects are selected to exhibit at IMPULSE Social Entrepreneurs Meet 2023 on 4th Feb 2023.
8 ATL projects are exhibited at ASSISTIVE TECHNOLOGY EXHIBITION 2022 3rd EDITION @ T- HUB 2.0  3rd Dec 2022
ATL students Tarun Shashank III B. Tech Mech, Sravya III B Tech ECE, Praneeth III B. Tech EEE, Joy Noah IV B. Tech CSE of the project Automatic Height Adjustable Stand for Document Scanning -(AHAS) are the winners of the Student Design Challenge at EMPOWER 2022 held at IITM Research Park on 15th Oct 2022.
ATL project Puff Mouse- An AAC Mouse won 2nd prize in Project Expo at the First International Conference on Cyber-Physical Systems & Assistive Technologies 2022 (CPSAT 2022), on 23rd Sept 2022.
Honorable Chairman sir is being awarded the prestigious "Honorary Fellow Award 2022" on 1st June 2022 from the Rehabilitation Engineering and Assistive Technology Society of North America – RESNA for his contribution to the Assistive Technology domain over the years
Maverick-The Page Assister project won a fourth prize worth Rs15000, and the Intuitive Medication project won a consolation prize worth Rs 5000 in Anveshana 2022 on 25th and 26th  March 2022
ATL Project AAKAR VARNADYAY is selected as a top-five finalist and is exhibited at Assistive Technology Summit 2.0 conducted by TSIC on 4 Jan 2022
Assistive Technology Lab (ATL) Students G. Sevanth (CSM), K. Saiteja (BME), P. Rohan Raj (EEE), V. Tarun Shashank (Mech), and ATL faculty Rohith Sirpa participated in the BUILD Club Program conducted by IIT Madras Research Park on 17th & 18th June 2022 and subsequently started the Club in BVRITN in association with IITM.
ATL participated in ANVESHANA 2020, Science and Engineering Competition (24th

to 26

th

Feb. 2020) along with Telangana Model School Jakkapally and won 3 prizes.

ATL project "Alternate Augmented Communication Device" won 1st prize of Rs. 30,000 cash prize.
ATL project "Smart Cradle" won 3rd prize of Rs. 20,000 cash prize.
ATL project "Fully automated Fish Feeding Device" won the consolation prize of Rs. 5,000 cash prize.
ATL project" Drip – M" was selected and showcased in the prestigious BioAsia 2020 Start-up stage by the 17th to 19th of 2020 by G. Nitish Kumar (IV B. Tech BME) and V L Rajesh Kumar (IV B. Tech CSE).
ATL faculty & students attended MED TECH Symposium 2020 at the Center for Healthcare Entrepreneurship (CfHE) at IITH on 25th Jan 2020.
Assistive Technology Lab, BVRIT, Narsapur showcased four projects (Prosthetic Arm, Knee Brace, Augmentative and alternative communication Device and S-Cube) in the Assistive Technology Exhibition 2020 conducted by Telangana State Innovation Cell (TSIC) on 3 rd Dec. 2020. The Exhibition was attended by Prof. K. Lakshmi Prasad, Principal, Prof. Sivakumar Krishnan, Director, VEDIC, Sri. P.SatishChandra, Director Industry Relations, Prof. MuraliKrishna, HoD, MECH, Prof. H. Sujana, HoD, BME, Mr.Pandurang Mirajkar, ECE, Mr. M. PremKumar, BME, Mr. J. Manikyam, BME, Mr. K. Kumar, BME and ATL students, Manasa, Anudeep, Reshma, Sahithi, Bardwaj from BME, Ranganath from Chemical, Kavya and Hemanth from EEE. The exhibition was visited by Sri. K. T. Rama Rao, Hon. Minster of IT, Govt. of Telangana, Shri Jayesh Ranjan, Principal Secretary, IT & IC, Smt. Divya Devarajan, Commissioner, Women Development & Child Welfare, Smt. B. Shailaja, Director, Welfare of Disabled & Senior Citizens, Govt. of Telangana, Mr. Ravi Narayan, CIO, TSIC. Sri K. T. Rama Rao appreciated our society for starting ATL and congratulated our honorable Chairman Sri. Vishnu Raju Garu.
 ATL Project Smart Cradle won third prize at Anveshana 2019
ATL Project Smart Cylinder won Consolation Prize at Anveshana 2019
ATL Project won First Prize of 1 Lakhs at GE Healthcare Precision Health Challenge – 2019 for an Alternate Augmented Communication Device project
Won first prize 2 Lakhs in GE Healthcare Digital Technology SynerGE 2019 Sep 2019 at Bengaluru for Drip M project
Smart India Hackathon 2019 @ Warangal
Smart India Hackathon 2018 @ Coimbatore: Won 2nd runner-up with a 50,000 cash Prize for Smart Air Quality Monitoring System in Smart India Hackathon-2018
Title
Description 
Image
Learning Aids
Aakar Varnadyay
Aakar Varnadyay helps in learning the basic shapes and colors. This also has visual and auditory outputs to make it attractive to differently-abled children. 
Braille Learner
Learning the Braille script needs assistance and mentoring by specialists which is expensive and time-consuming. This prototype helps visually challenged to learn braille script. The braille keyboard developed is used for sending emails through mobile apps. 
Ganitha Sahaya
Ganitha Sahaya is a math tool, which helps in learning the basic arithmetic operations. The interface of the device is designed for easy learning with visual and audio outputs.
Alternative/ Augmentative Communication
Puff Mouse
This device is used to access laptops and mobiles through a joystick and sip/puff switch. 
Prosthesis & Orthosis
Below Elbow Prosthetic Arm
The prosthetic arm works on myoelectric signals. This also has sensory feedback for pressure and temperature. 
 
Knee Brace
Knee joint lock is controlled in two ways, one through a mobile application, where the user can lock or unlock with a press of a single button or through a sensor which is available at the top of the knee brace with a single tap.