One Week Faculty Development Programme (FDP) through Hybrid mode on                   "Building the Future: Industry 4.0 Applications in Civil Engineering"
It gives us an immense pleasure to announce that One Week Faculty Development Programme (FDP) through Hybrid mode on "Building the Future: Industry 4.0 Applications in Civil Engineering" is being organized by the Department of Civil Engineering from 21/09/2023 to 26/09/2023.
Important Dates:
Last Date for Registration: 16-09-2023
Registration Link:
https://forms.gle/BaDjZj8dhYedC7pf6
Registration Fee:
Students – Rs. 500
Academicians – Rs. 1000
Industry Delegates- Rs.1500/-
Resource Persons: Faculty members/ Researchers from IITs / NITs / BITS-H / Mahindra University.
Who Can Participate:
The Programme is open to the faculty members of various institutions across India working in the field of civil engineering and allied disciplines, Research Scholars, M. Tech Students and Industry personnel working in the concerned /allied discipline can also attend.
Convener:
Dr. S Krishna Rao
Prof & HOD,
Dept. of Civil Engineering.
Co – Convener:
Dr. R Vijay Kumar
Assoc. HOD.
Dept. of Civil Engineering.
For more information, Please Contact:
Programme Coordinators:
Mr. S. J. Shivaraj
Assistant Professor, BVRIT, Narsapur
Ph: +91-9739783037
Email: shivaraj.sj@bvrit.ac.in
Mr. M. Abhay
Assistant Professor, BVRIT, Narsapur
Ph: +91-7674809416
Email: abhay.m@bvrit.ac.in
Civil engineers are the most highly sought for building the global future. The present Civil Engineering practices in our country have certain defined targets and are aimed to:
provide water supply for irrigation and drinking water needs;
develop the minor, medium and major irrigation systems;
provide the community housing and to investigate, design and manage the construction of multi-storey buildings;
design a new road, free way or tunnel, bridges and manage their construction;
provide various alternatives to relieve traffic congestion and to solve transport problems;
mange the maintenance of the large bridges that link most cities;
develop new ways of treating and reusing storm water and waste water to preserve precious resources;
prevent contamination of soil and groundwater from industrial activities;
design systems to control erosion in rivers and protect people from the devastation floods;
develop the concept of a GREEN BUILDING that produces more electricity than it consumes and has a self-sufficient water supply;
draw up innovative foundation systems for unstable soils;
mitigate the natural disasters;
design, plan and execute the environment friendly drainage and sewerage projects and
work with a consortium to design eco-tourism lacustrine projects.
B.Tech in Civil Engineering
Students interested in working closely with society & serving the society can choose Civil Engineering. Providing various amenities & creating required infrastructure for all societal needs forms the prime goal of any Civil Engineer. The societal needs such as Shelter, Drinking Water & Waste Water Management, Movement of people & goods through various modes of transport such as Roadways, Railways, Airways & Urban Transportation Systems, Management of Water Resources through Dams & Reservoirs are addressed by a Civil Engineer. Communication, Organizational, Leadership and Decision making skills are very important to civil engineer as every infrastructure projects requires huge man power and team management. Key skills that differentiates a Civil Engineer from others are emotional intelligence and Creativity with societal responsibility.
Career Opportunities in Civil Engineering
Tremendous job opportunities await civil engineers every year as infrastructure needs of the state are continuous and ever increasing. Key job areas can be:
Govt. Organisation – Engineer Incharge positions in Irrigation, Road and Buildings, Panchayati Raj, Rural Water Supply, Municipal Corporations, etc.,
Private Organisations – Major infrastructure development companies such as L&T, Gammon India, HCC, GMR Infra, Navayuga Engineering Corporation, NCC, LASA, Shapoorji Pallonji Group, Numerous Thermal and Hydel Power Corporations, Medium Level Contractors, etc.,
Public Sector Undertaking Companies (PSU's) – NRSC, Indian Railways (RRB), Survey of India, ONGC, NHPC, NTPC, HPCL, BPCL, BHEL, STEEL PLANT, ISRO etc.,
Civil Engineers have a great chance to start their Entrepreneurial Ventures and Consulting Firms compared to other disciplines given the fact there is a large shortage of quality civil engineers.
Higher Education and Research.
Current Industry Scenario
Infrastructure forms the basis of economy in the near future. There is a severe shortage of quality civil engineers in every corner of the country in Govt. and Pvt. Organizations. Every state in the country is gearing up for greater leaps in infrastructure development opening up numerous opportunities. Various Government proposals such Metro Transport in Tier-I and Tier-II cities, Smart Cities Mission, Road Development goals of 292 km of expressways etc., offer greater chances of employment for a quality civil engineer.
AT BVRIT, emphasis is given in equal proportions to both classroom knowledge and practical applications. Academic curriculum is designed to meet the expectations of industry and research organizations. Teaching learning process is designed to enable the students to acquire sound technical and practical knowledge. Add-on courses in addition to regular curriculum provide the students with necessary tools/ skills(apart from those in curriculum) being adopted in the industry.
In addition to add-on courses, Guest Lectures and Field Trips enable students to envision the most recent trends both in the technical and industry spheres. The department also offers consultancy to various Govt. and Pvt. Organizations that gives the students excellent opportunity to work on real time projects.
Further, Campus Recruitment Training (CRT) programs conducted on a regular basis help the students to develop general aptitude and communication skills. Special sessions are conducted for students interested in taking competitive examinations (GATE) and Mock Tests are also conducted enabling students assess their knowledge beforehand.
Highly Experienced Faculty with strong industry and academic background; 5 faculty hold Ph.D; 3 more faculty are pursuing doctoral research
Well-equipped laboratories, Dedicated Department Library and Seminar hall
Guest lectures by eminent faculty and industry personnel
All round development through regular activities by Professional Body
Career counselling for students.
Add on programs to help students gain additional skill set (apart from curriculum) in tools such as STAAD PRO, GIS, Autodesk Revit, BIM, EPANET, Project Management Tools and be industry ready.
To become a center of excellence that brings out Civil Engineers with high technical competencies and ethical values for building sustainable Infrastructure for the society.
M1: To develop highly competent Civil Engineers by imparting Quality Education and Training that emphasizes on problem-solving skills,           team work, communication and leadership skills.
M2: To ensure good construction practices with consideration of ethics and safety to develop sustainable infrastructure.
M3: To develop intellectual growth of the students to become productive Civil Engineers in the service of humanity.
In-depth coverage of curriculum including coverage of sub-disciplines of Civil Engineering: Geotechnical Engineering, Geo-Engineering, Structural Engineering, Transportation Engineering, Water Resources Engineering and Remote Sensing & GIS techniques applied to Civil Engineering;
To engage students in creating innovative design solutions that include realistic constraints such as economic, environmental, health and safety, constructability, sustainability and global considerations;
To provide undergraduate research experiences, allowing students to work closely with members of the faculty;
To orient the students to Societal Problems connected to Civil Engineering;
To industry academic orientation and
To employ highly dedicated faculty members who are effective teacher-scholars committed in maintaining a learner-centered undergraduate environment with emphasis on student mentoring.
To achieve Centre of Excellence in Civil Engineering;
To establish Industry-Academia Relationship;
To participate effectively with Government sponsored projects;
To orient the students to Civil Engineering and Societal Problems and
To achieve more number of research publications.
Availability of dedicated, experienced and well qualified faculty;
Active participation of the Management in the development activities;
Well established labs and workshops;
e-class rooms with multimedia facilities;
Centrally air conditioned Seminar Hall/Auditorium;
Hostels with internet facility;
Central computing facility;
Well established library with digital library including national and international journals and
Good transport facilities.
| | |
| --- | --- |
| Year | Intake (B.Tech) |
| 2020 | 120 |
| 2019 | 120 |
| 2018 | 120 |
| 2017 | 120 |
| 2016 | 120 |
| 2015 | 120 |
| 2014 | 120 |
| 2013 | 60 |
| 2012 | 60 |
Programme Educational Objectives (PEOs)
To provide students with a strong foundation in Civil Engineering by imparting basic knowledge in Science, Mathematics and Engineering Principles.
To develop students with technical expertise and skills for effective Planning, Design, Execution of Civil Engineering Works.
To develop professionalism, ethics, team work, leadership, and lifelong learning skills to fulfill the growing needs of society.
The students will be able to:
PO 1: Apply the knowledge of mathematics, science, engineering fundamentals, and an engineering specialization to the solution of complex engineering problems.
PO 2: Identify, formulate, review research literature, and analyze complex engineering problems reaching substantiated conclusions using first principles of mathematics, natural sciences, and engineering sciences.
PO 3: Design solutions for complex engineering problems and design system components or processes that meet the specified needs with appropriate consideration for the public health and safety, and the cultural, societal, and environmental considerations.
PO 4: Use research-based knowledge and research methods including design of experiments, analysis and interpretation of data, and synthesis of the information to provide valid conclusions.
PO 5: Create, select, and apply appropriate techniques, resources, and modern engineering and IT tools including prediction and modeling to complex engineering activities with an understanding of the limitations.
PO 6: Apply reasoning informed by the contextual knowledge to assess societal, health, safety, legal and cultural issues and the consequent responsibilities relevant to the professional engineering practice.
PO 7: Understand the impact of the professional engineering solutions in societal and environmental contexts, and demonstrate the knowledge of, and need for sustainable development.
PO 8: Apply ethical principles and commit to professional ethics and responsibilities and norms of the engineering practice.
PO 9: Function effectively as an individual, and as a member or leader in diverse teams, and in multidisciplinary settings.
PO 10: Communicate effectively on complex engineering activities with the engineering community and with society at large, such as, being able to comprehend and write effective reports and design documentation, make effective presentations, and give and receive clear instructions.
PO 11: Demonstrate knowledge and understanding of the engineering and management principles and apply these to one's own work, as a member and leader in a team, to manage projects and in multidisciplinary environments.
PO 12: Recognize the need for, and have the preparation and ability to engage in independent and life-long learning in the broadest context of technological change.
Programme Specific Outcomes
The students will be able to:
1. Analyze, Design, Construct, Maintain and Operate infrastructure projects in different seismic zones.
2. Adopt state-of-the-art practices and materials in the field of civil engineering and Provide sustainable solutions to the Civil Engineering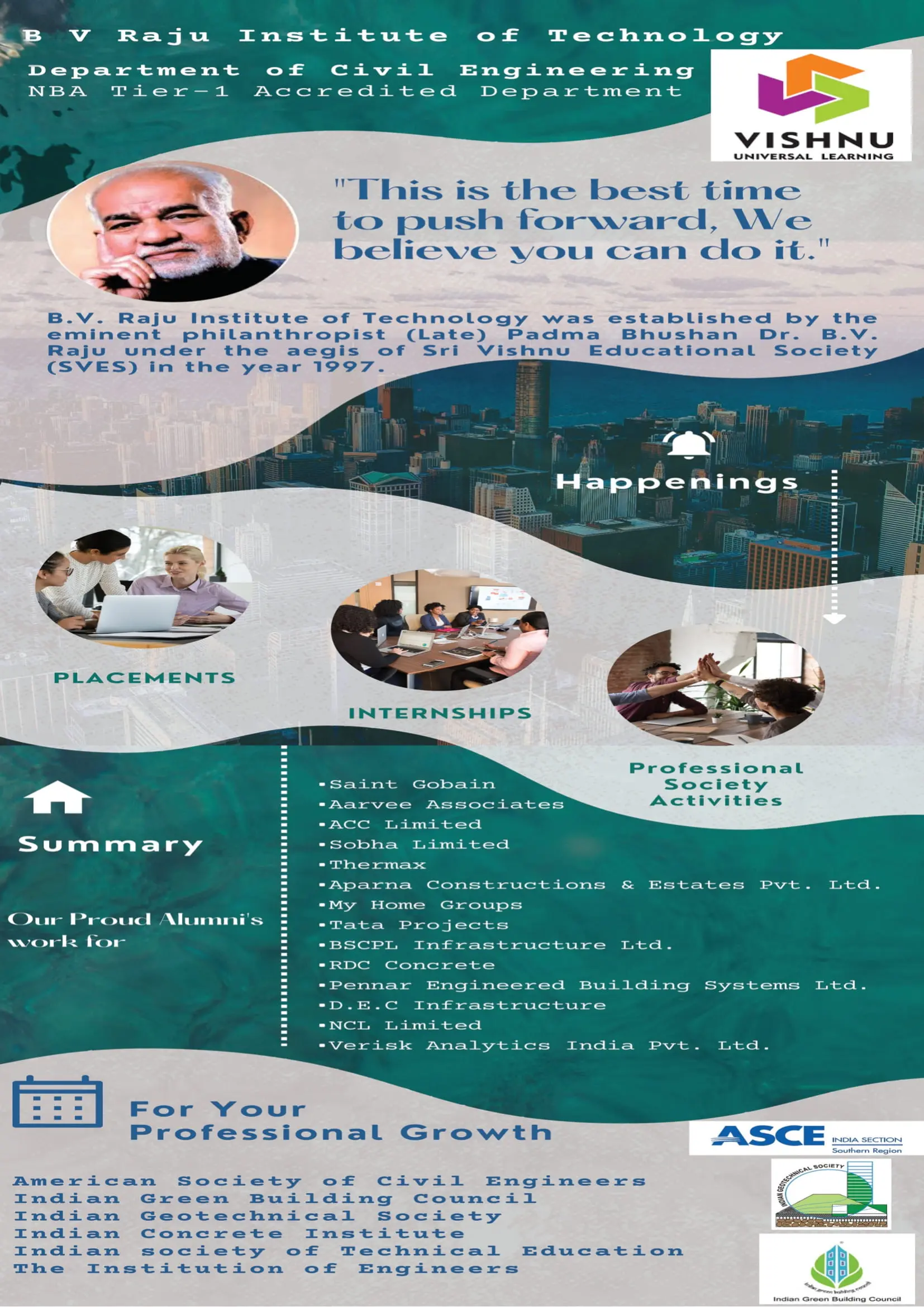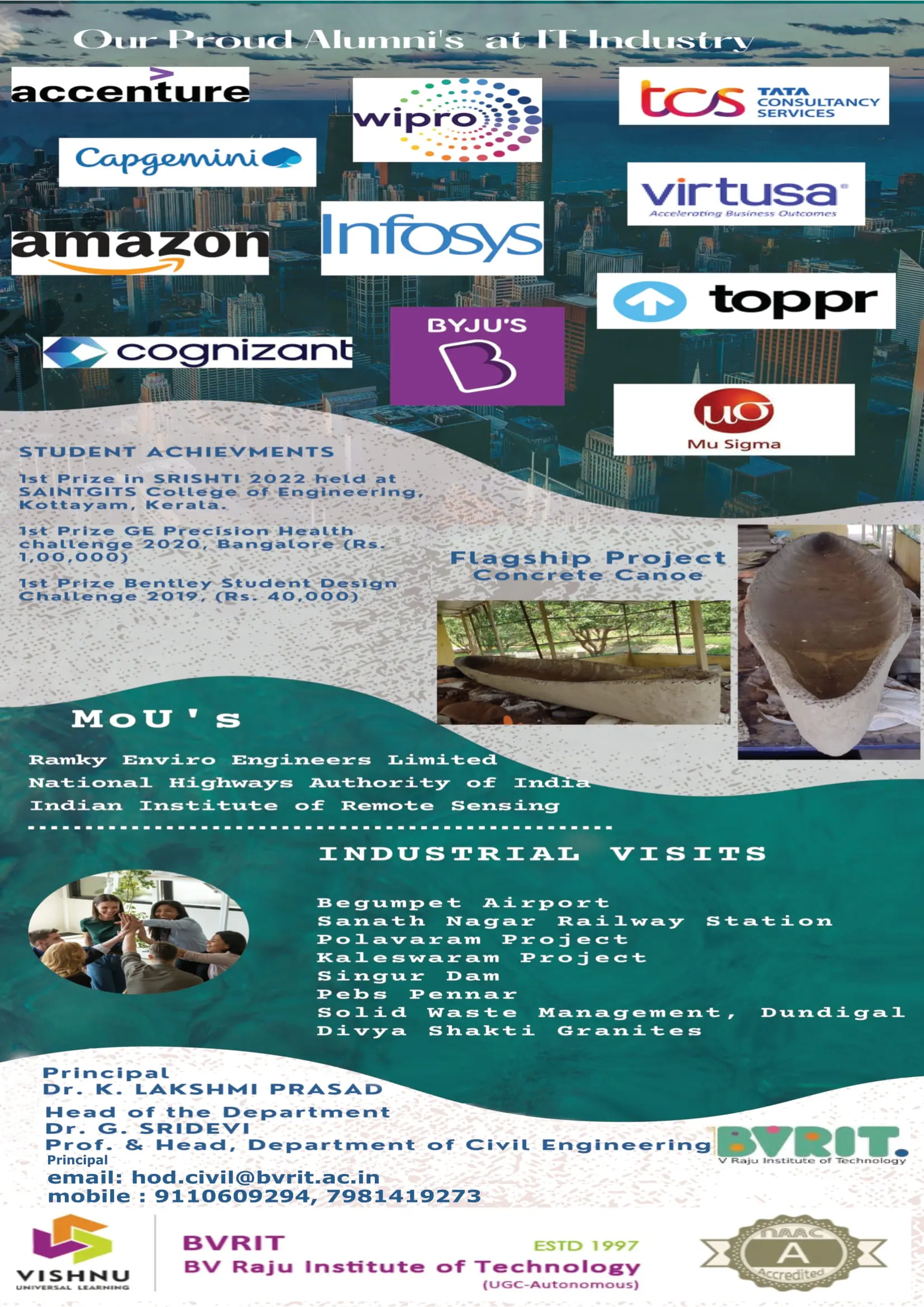 Placements and Higher Studies Statistics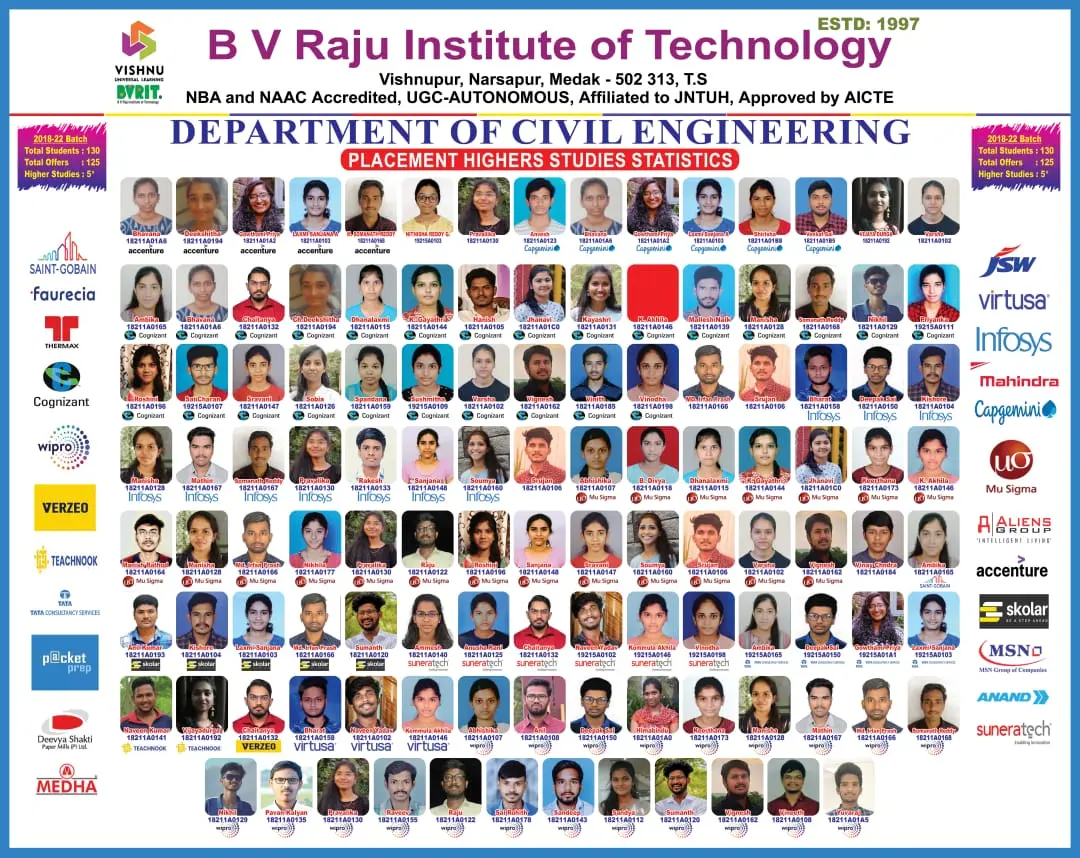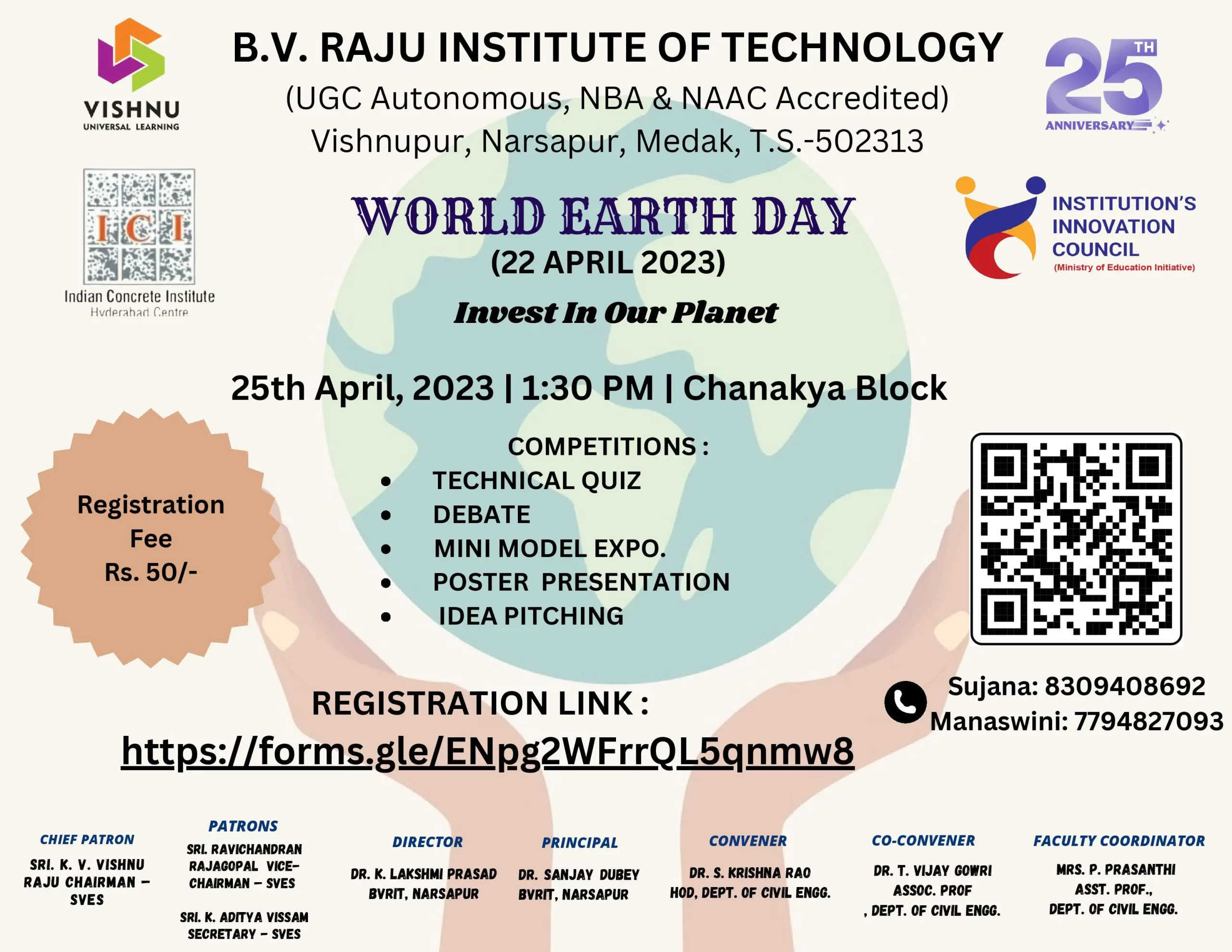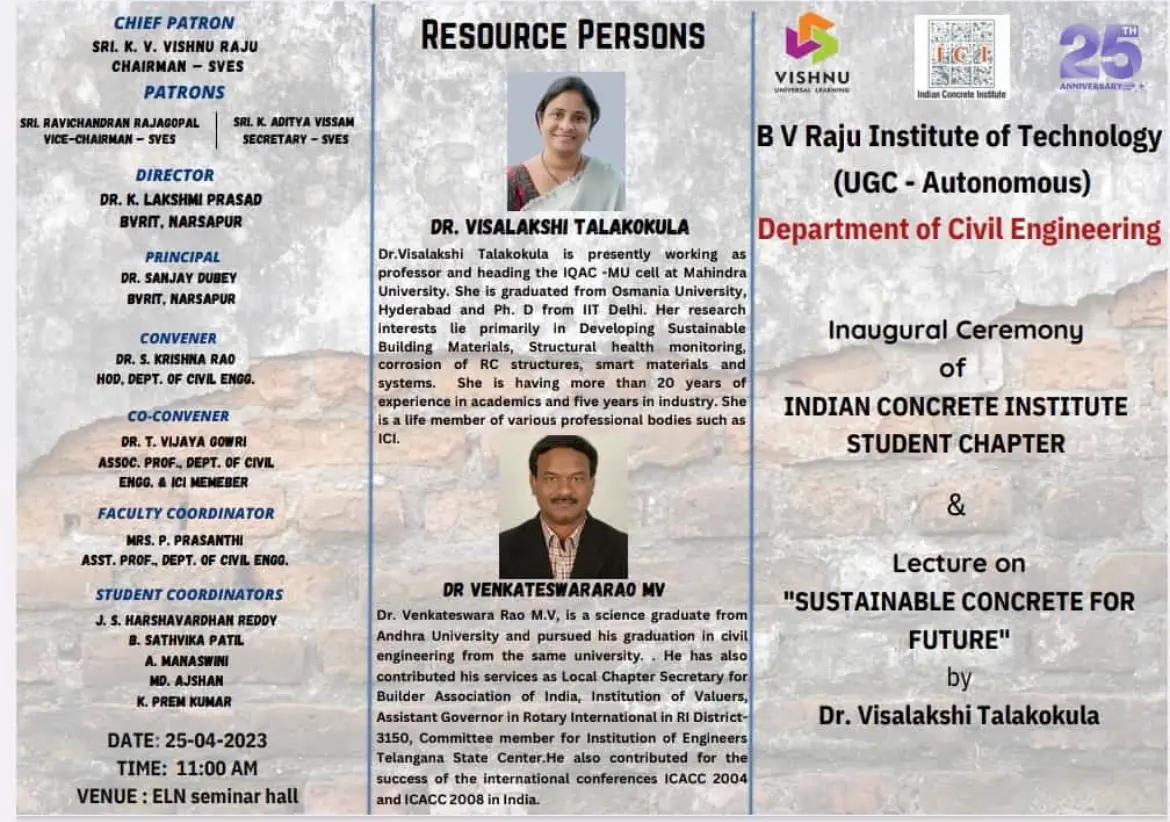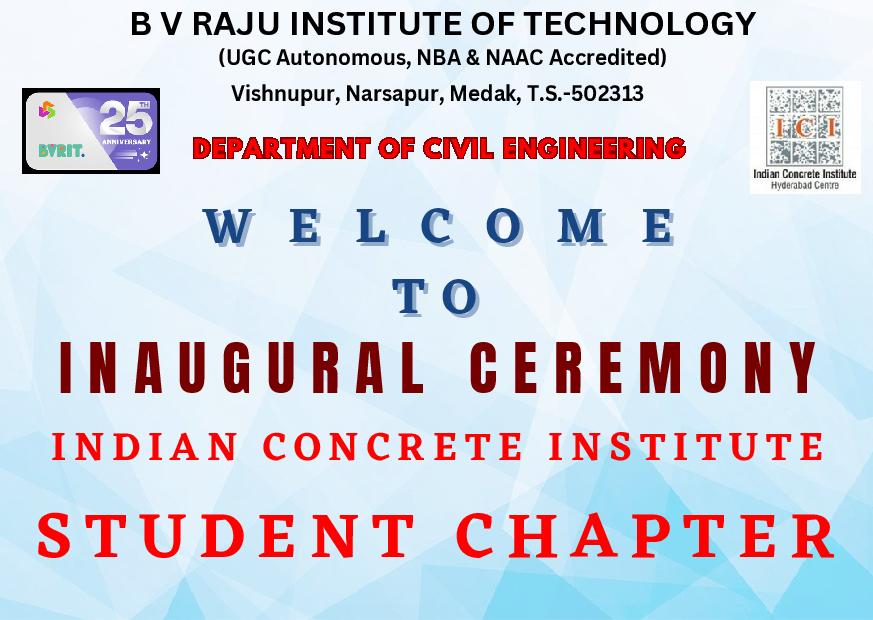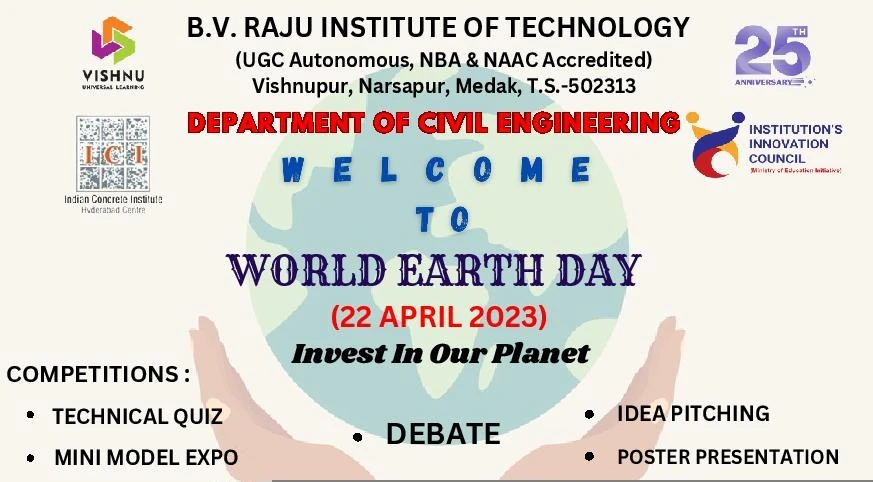 We are happy to introduce ourselves as Team 
NOVUS
 from the Department of Civil Engineering in association with the American Society of Civil Engineers Student Chapter of B. V.  Raju Institute of Technology, Narsapur- one of the renowned engineering colleges of Telangana with NBA & NAAC Accreditation. 
This edition of 
NOVUS
 is coined around the theme "A STEP TOWARDS INNOVATION". We wish to conduct a model exhibition aiming at improving the Technical and Practical skills of students and providing them with the opportunity to showcase their innovative ideas on present trending technologies that help them to enhance their essential skillset.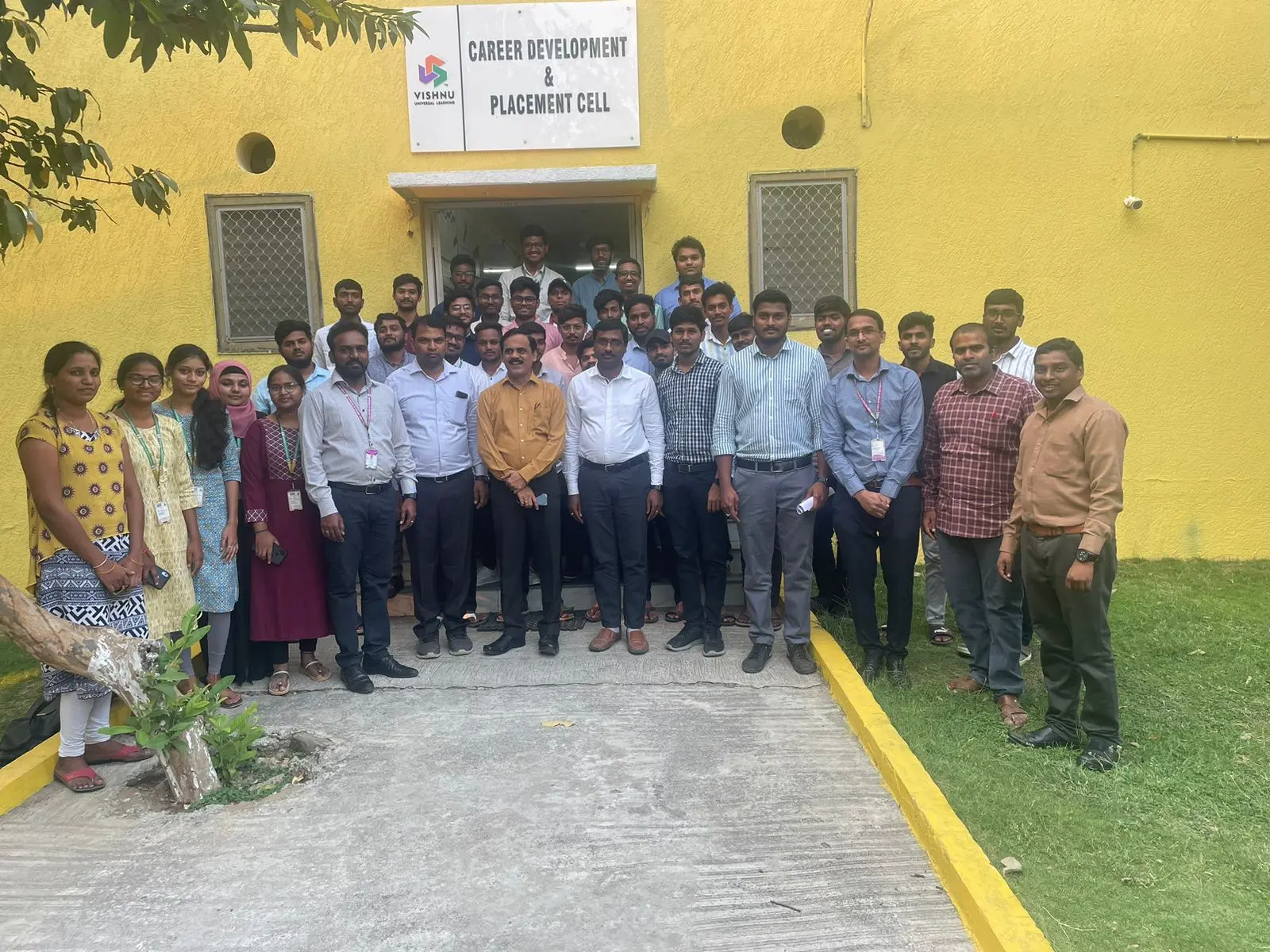 26 Students of 2019-23 Batch are placed in Enlight CAD Engineering with CTC 2.4 LPA.