1. " Rural Women Technology Park" at Vishnupur village, Narsapur, Medak District, Telangana state
Funding by Science for Equity Empowerment & Development Division, Department of Science and Technology (DST), Governement of India.
Project Cost: Rs.93.37 Lakhs
Current Status: Completed

Significant achievements of the Rural Women Technology Park, Narspur, Telangana
Sanction date:  20-12-2016
Completion date:  19-12-2019 (extended up to 31-03-2020 without financial support)
Project Cost:  Rs. 93,37,781 (Including Institute Contribution)

Highlights of the Project:
Recruited the project coordinator (01), Junior Research Fellow (01) and Field assistant (01) as project staff.
Brain storming with MROs, Grama Sarpanch, NGOs, SHGs in different villages around Narsapur mandal.
Strategies and planning for execution of the project.
Procured 3 acres of land exclusively for RWTP.
Completed the construction of WTP shed for common facility center, polyhouse and

Procured permanent equipment.
Conducted awareness camps, Trainings and workshops on technology-based interventions
Cultivation of dry land crops by introduction of mixed farming systems and developing millets-based value addition.
Cultivation and Production of exotic flowers through greenhouse (protected) cultivation (Rose, Gerbera, Carnation)
NTFP based livelihood interventions (Hill broom cultivation & processing/value addition). Manufacturing of Value-added products from Butea monosperma (Plates from leaves, ropes from wood, natural color/dyes from flower, gums/resins from barks)
Design Interventions and Product Diversification in handloom dubbaka sarees/ Gollabama motifs and Handicrafts
Provision for product display and marketing outlet.
896 Women beneficiaries trained under RWTP project.
2. "Cluster Method for improving Vegetable Farming Practices for enhanced vegetable production for sustainable livelihoods among rural women in selected mandals of Medak District, Telangana state"
Project Cost : Rs.36 Lakhs
Current Status: completed

3.''Nano composite polymer electrolytes- application to solid state batteries '' under colloborative reserch schemes TEQIP -III,JNTUH
Principal Investigator: Dr. E Laxmi Narsaiah
Project Cost : Rs.2.5 Lakhs
Current Status: Ongoing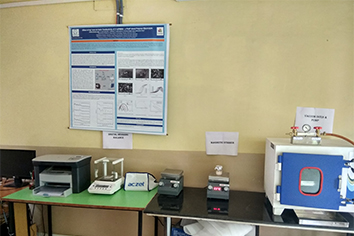 4. "Synthesis of Graphene From Agricultural Waste As Green Substitute And its Application in Remediation of heavy metals In Waste water treatment" under colloborative research scheme, TQIP III ,JNTUH.
Project Cost : Rs.2.5 Lakhs
Current Status: Ongoing