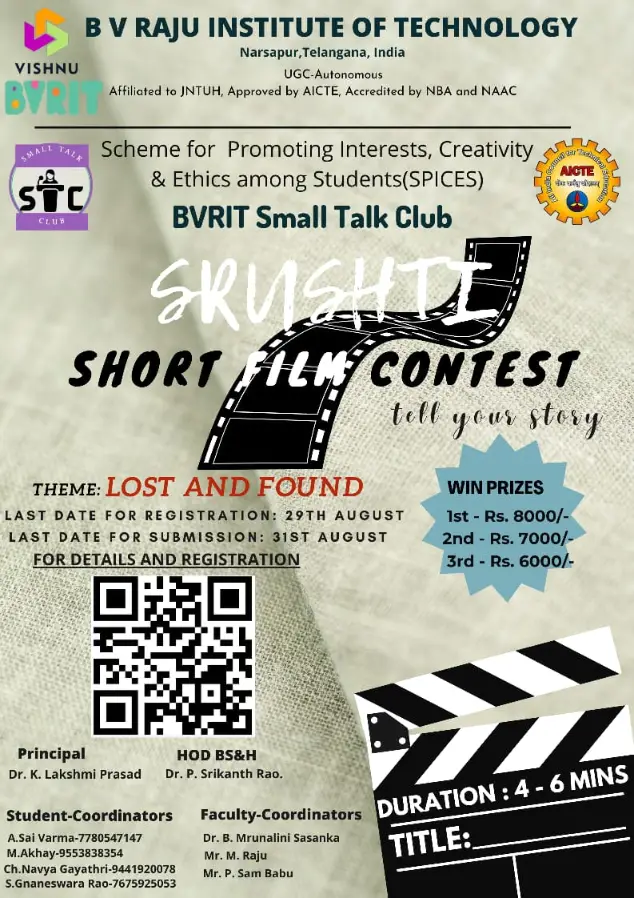 Srushti – An inter-college short film contest with the tagline 'Tell your Story' organized by BVRIT Small Talk Club and sponsored by AICTE-SPICES (Scheme for Promoting Interests, Creativity and Ethics among Students) was conducted from 27/8/2022 – 1/9/2022.
The contest received amazing responses from participants across many Engineering colleges in Hyderabad with 25 registrations.
The participating teams were given a duration of 5 days to prepare the script and shoot their short films on the theme – 'Lost and Found. The opportunity to showcase the script writing, directorial, musical and acting talent was greatly made use of by the teams in every shot.
Cinematographers from Tollywood and iconic short film actors and directors were on the juries. They applauded the talent and creativity of the winning teams.
All thanks to the management, faculty, student coordinators and faculty coordinators and participants for making this event a grand success.