Coordinators of the center:
Dr. Jayshree Das
Dr. B. R. Sanjeeva Reddy
Dr. I.A. Pasha
Mr. Ramesh Deshpande
Sri Vishnu Educational Society (SVES) and Dhruva Space Private Limited, Hyderabad signed a memorandum of understanding (MOU) on November 18, 2019 to explore opportunities for academic exchange and collaboration between both parties supporting the establishment of Vishnu Space Engineering Laboratory in Department of Electronics and Communication Engineering, B V Raju Institute of Technology, Narsapur Campus, Medak, India
MOU was signed by Dr. K. Lakshmi Prasad, Principal, BVRITN and Mr.Sanjay Nekkanti, Dhruva space private limited, Hyderabad in presence of Sri K. V. Vishnu Raju, Chairman, SVES & Sri Ravichandran Rajagopal, Vice chairman, SVES and the agreement signaled the start of a new phase of collaboration to strengthen experiential learning model for student projects and more meaningful with the involvement of faculty and students of SVES.
Training sessions carried by experts of Dhruva space would give a context and platform for more holistic understanding of the issues and challenges taken up under Vishnu space operation center.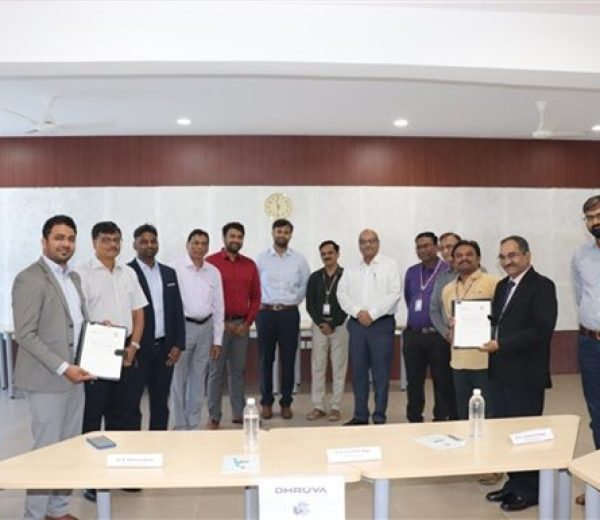 Exchange of MOU between SVES and Dhruva Space Private Limited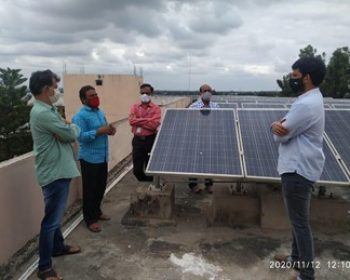 Mr. Aditya Vissam, Secretary of SVES visited the ECE Department Research laboratories on 12th Nov 2020 and interacted with the Faculty team of Dhruva space Laboratory
Student and faculty must hold a HAM grade license
Establish the ground station infrastructure as initial phase and enable broad understanding of training activities which further show impact on opportunities to the students
Built ground station can track the amateur satellites orbiting in lower earth orbit and to establish a communication link with the satellites.
To track the satellite, the ground station has to calculate and predict the pass of the satellite over the ground station and the calculations of the satellite's position which can be based on known orbit parameter such as Two Line Element (TLE).
As part of initial phase, BVRIT in coordination with Dhruva space private limited will setup a complete Space Operations Centre (SOC) at Narsapur Campus. This SOC is essential for any satellite mission and it shall be capable of receiving, processing and displaying   data   from   existing   satellites.   It shall   include   hardware   including transceivers, antennas, workstations with data walls and associated hardware. The hardware shall be augmented with a Mission Control and Operations software that can be used as-is or modifiable with add-ons to suit future mission requirements.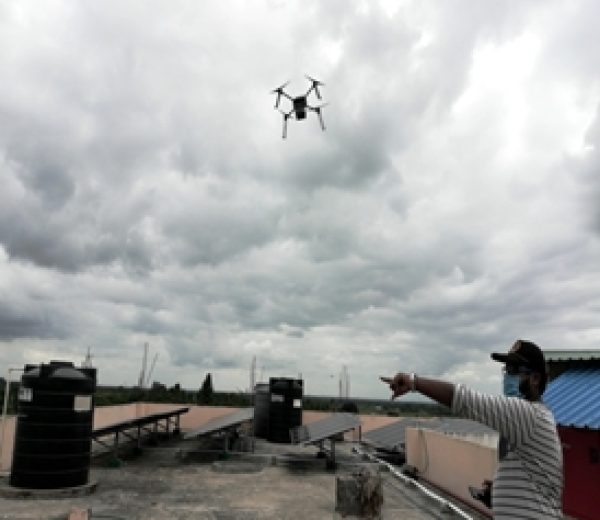 (a) Transmitter fixed with Drone for coverage testing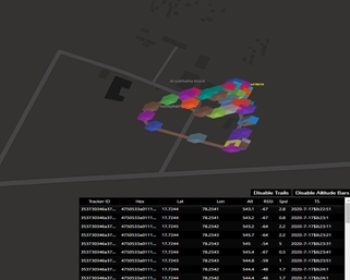 (b) Pattern values displayed (for a radius of 2.5KM)
The  SOC  shall  enable  to  faculty  and  students  learn  the  fundamentals  of  Ground operations and in extension, design of Space communication systems. It is effectively a practical RF equipment laboratory.
 Amateur Radio and familiarization with Radio Equipment
Satellite orbits and geometry
Communication Link Budget design & Analysis
Space Mission simulation
Radio Equipment Design and Experimentation  
Collaborate with academic Universities and R&D Organizations in Space Engineering
The Students are expected to work in close association with Dhruva Space and National Institute of Amateur Radio (NIAR)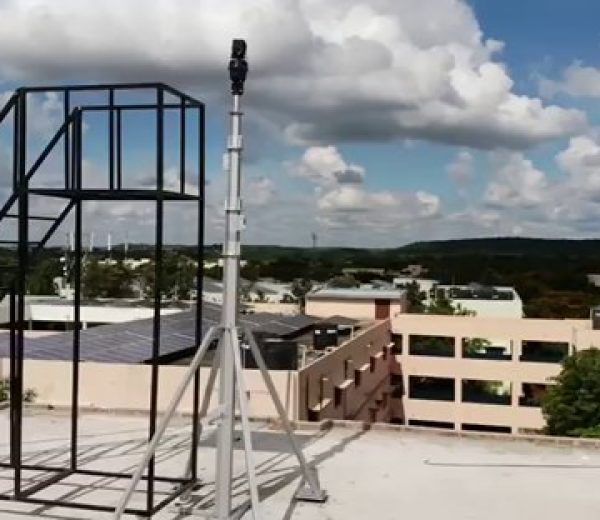 Antenna Erection structure implanted on top of the Laboratory (438MHz)
Students and faculty members holding the HAM Licenses are eligible in using the HAM transceiver setup installed in the ECE department and is used for purpose of Live Satellite Tracking using HAM radios. Testing is carried on 12-12-2017 @2.47 PM and students were successfully able to communicate it with NOVA19 American satellite and generated the weather forecasting data with the support of National Institute of Amateur Radio (NIAR).
Live Satellite Tracking Using HAM Radio on 12-12-2017, with the help of National Institute of Amateur Radio (NIAR) of the Laboratory (438MHz)
Setting up of Anechoic Chamber Facility
Department of ECE with the grant in aid from AICTE funding agency under MODROBS scheme is going to setup a fully shielded RF anechoic chamber facility which expands the testing and measurement capabilities by providing means of analyzing radiating elements where near field test facility characteristics are analyzed.  Chamber is supported with shielded personnel doors, shielded sliding high bay that allows easy entry and exit of large mockups.  Pyramidal absorbers covering the wall and door surfaces absorb electromagnetic energy, thereby allowing a anechoic chamber to simulate a space environment.
Chamber with a size of 6x3x3 m3 has the capability of accommodating the Radio Frequency waves to bring all testing from range of 100MHz to 40GHz indoors. This test facility benefits the testing of different modules such as RF antennas, RF filters and RF amplifiers.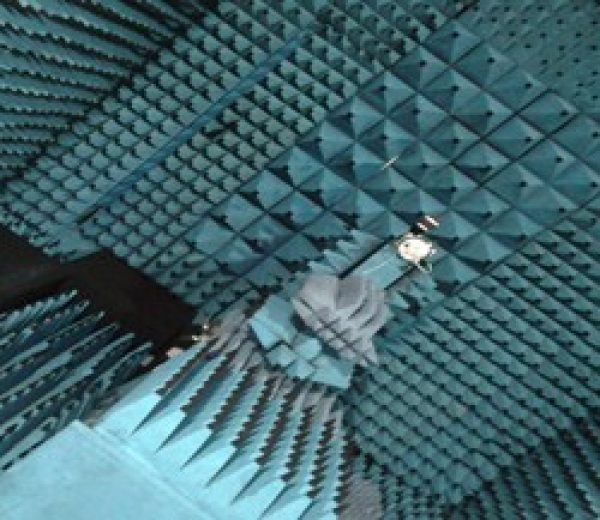 Anechoic Chamber Facility (100MHz-40GHz) for indoor testing
Every satellite carries a payload that performs the intended function to achieve the mission goal and main bus that supports the payload function. Development of payloads comprises of detectors, electronics and associated algorithms, which can be an experimental piggy backload for small or operational satellite projects.
Interactions with Research Laboratories/Units:
Human space mission requires innovations and creative technologies for space explorations which will lead to widening of scientific knowledge, economic growth, value addition to the quality of life of a common man and thus national development.
There is a need to establish long term research as well plan for necessary facilities with strong infrastructure supporting the experimental applications. The opportunity of interactions with ISRO and DRDO research laboratories will enable the faculty researchers of SVES institutions to harness their expertise and capabilities towards development of technologies for space exploration.
National/International research proposals are prepared and submitted to the ISRO and DRDO research units for developing affordable and indigenous cutting edge technological solutions in the areas of low earth orbits and beyond for space exploration. As part of initiation, following are the list of technology development areas covered:
Advanced Materials
Human robotic interfaces
Thermal protection systems
Environmental control and life support systems
Space Food and related technologies
Radiation Hazards Characterization and Mitigation Techniques
Benefits to students and faculty:
Infrastructure setup for Vishnu space operation centre at BVRITN would maximize benefit to the students and faculty of SVES
Attract more industries for placement to the students and inspire faculty to orient with research work by getting research grants, publishing papers and patent claiming
Intellectual exchange between the trainers of Dhruva space and faculty of SVES
Course Content Development:
Impact of new course model can be introduced as part of professional elective in prefinal year semester
Need of core faculty team of SVES to be trained need to be decided with mutual discussions of Dhruva space private Limited
Facilities to be provided for the purpose of functional testing, critical testing and evaluation
Faculty team of ECE, BVRITN attended the demonstration session conducted by Mr. Aditya, Technical Engineer from Dhruva space on 7th November 2020. 
Testing facility displaying the data sets recorded from the public satellite