The Indian Institute Of Chemical Engineering is the apex professional institute of chemical engineers. The institute adds feathers after feathers to its cap by providing a world-class education to the engineers. The aim of the college is to promote the cause of chemical engineering by providing quality education to all sections of society. It provides them with the appropriate forum for joint endeavours, hand in hand to work for human beings through the application of chemical engineering and allied sciences.
Good exposure to students on all fronts.
Highly experienced and skilled faculty members.
The college is well maintained and established with the latest development.
It is of great honour for us to inform you that BVRIT has joined hands with IICHE, one of the most reputed institutes of India so that, even our Chemical Engineers can take part in other extra-curricular activities apart from studies. In today's world, having good grades and marks are not enough, having critical thinking and innovative thinking is also necessary. Marks can fetch bookish knowledge but, unless you are able to analyse and apply it, there is no value to that knowledge. IICHE provides a platform for our students to think out of the box and put forward their innovative ideas.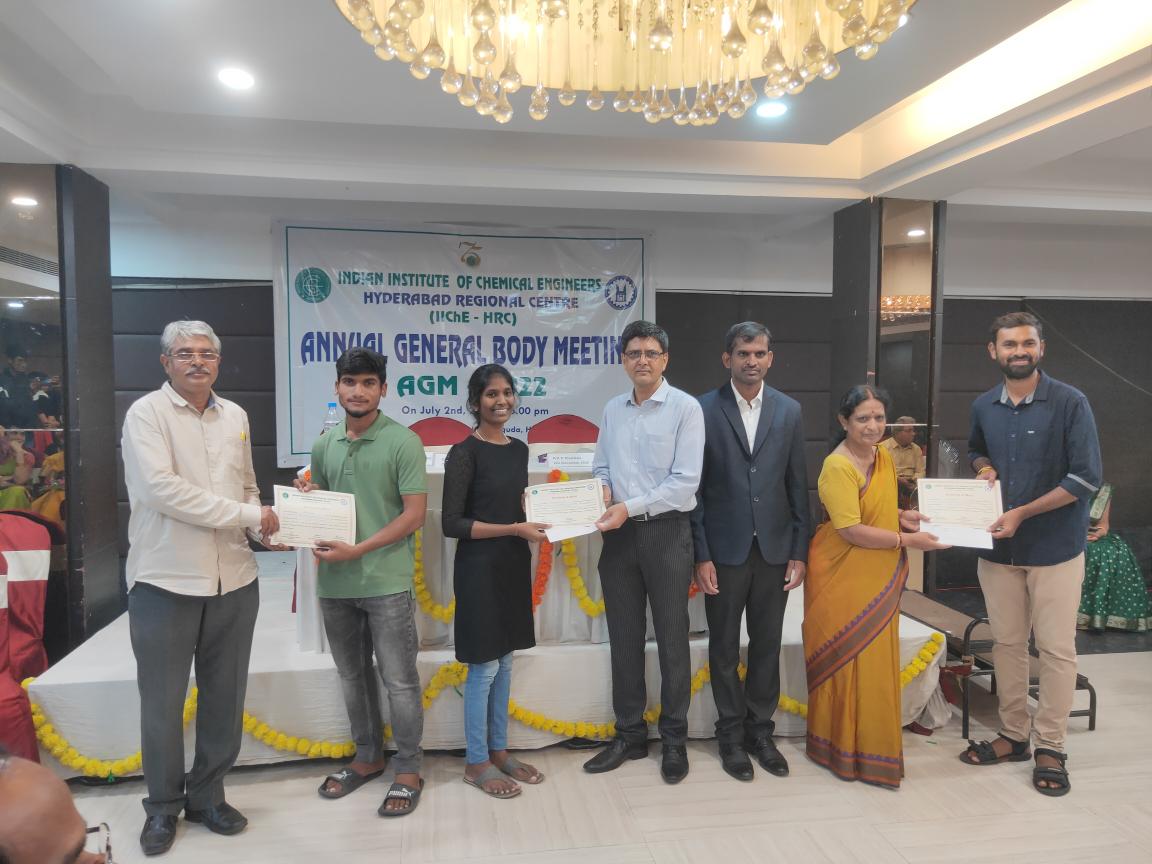 Students of the Department of Chemical engineering: Ms. N. Laxmiprasanna, Mr. Sandeep Reddy and Mr. G. Shiva Kumar have secured first prize in the "Model Making" Event conducted as a part of the Annual meeting of the IIChE Hyderabad Regional Chapter in July 2022. The participants of this competition included students from OU, JNTUH, CBIT, AU, IIIT, NITW and other institutions in A.P and Telangana offering Chemical Engineering
In the recently completed election for the office bearers of the IIChE Student Chapter. The following students have been appointed to the Student governing body
Mr Madhu Kiran – President (PHE)
Ms Sri Hitha Adla – Secretary (CHE)
Mr Hari Veligatla – Treasurer (CHE)
Ms Harshitha Reddy – Joint Secretary (PHE)
Ms Shireen Fathima – Joint Treasurer (CHE)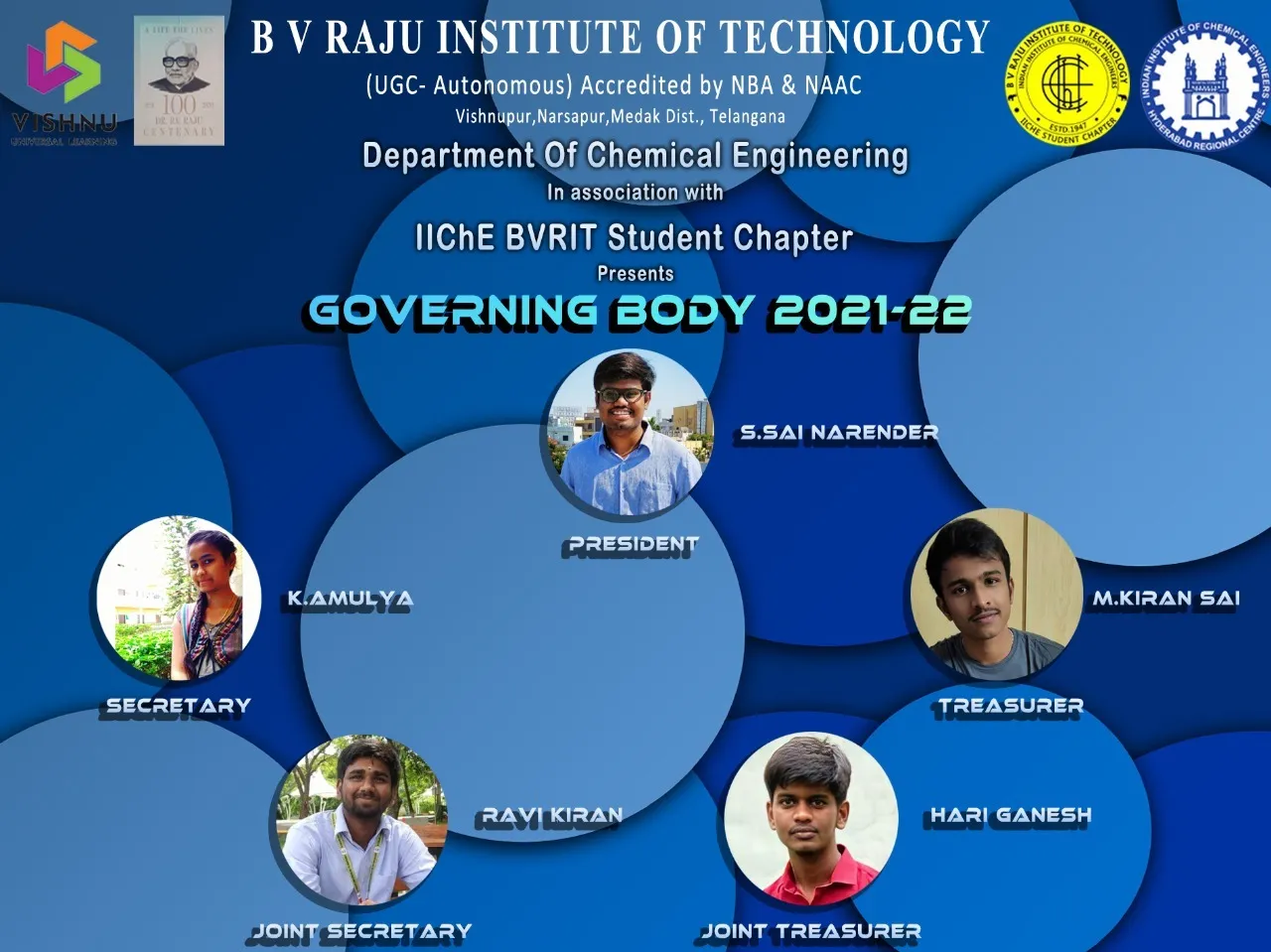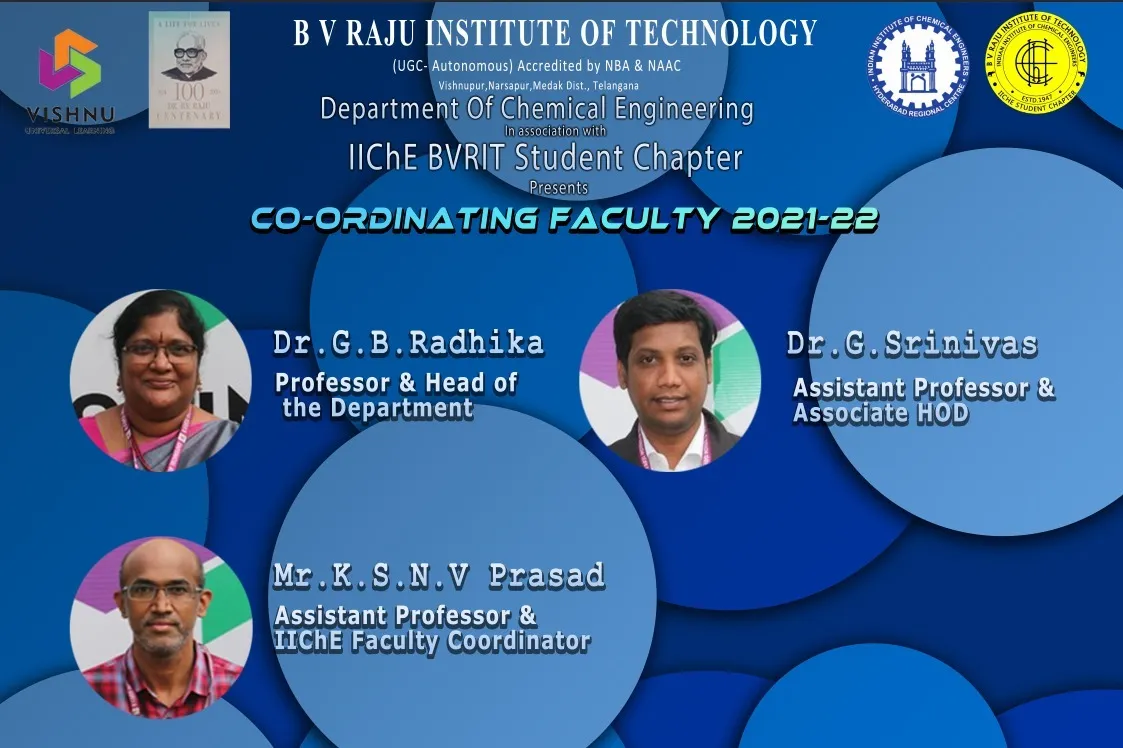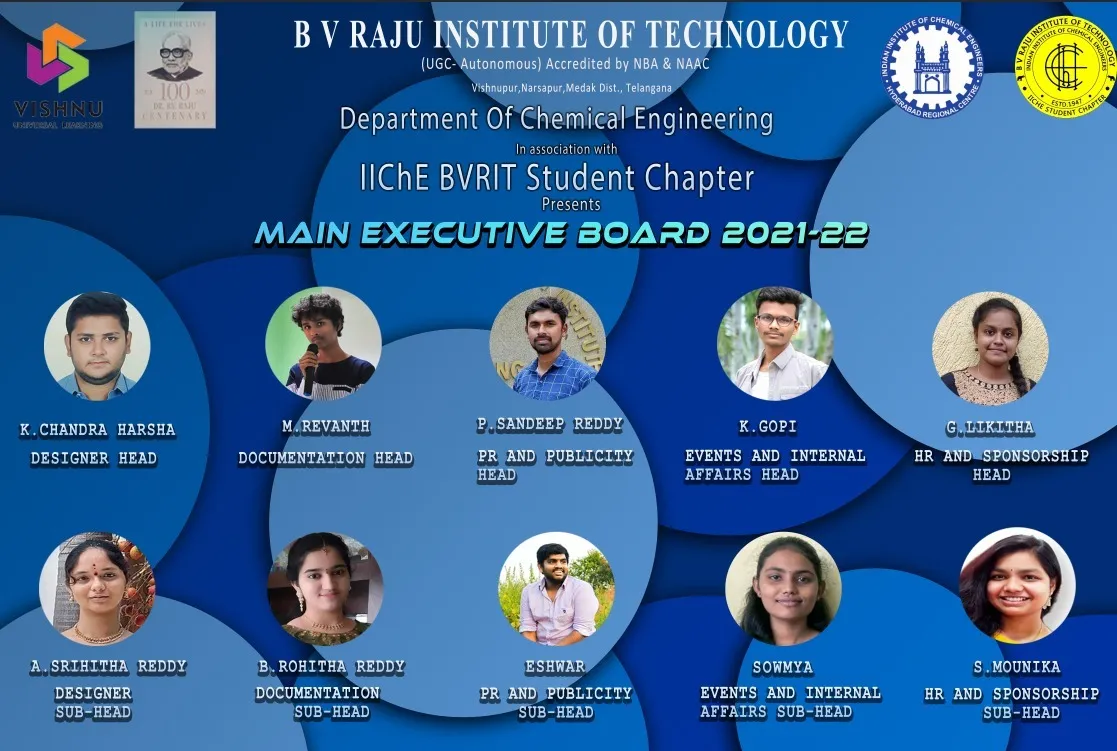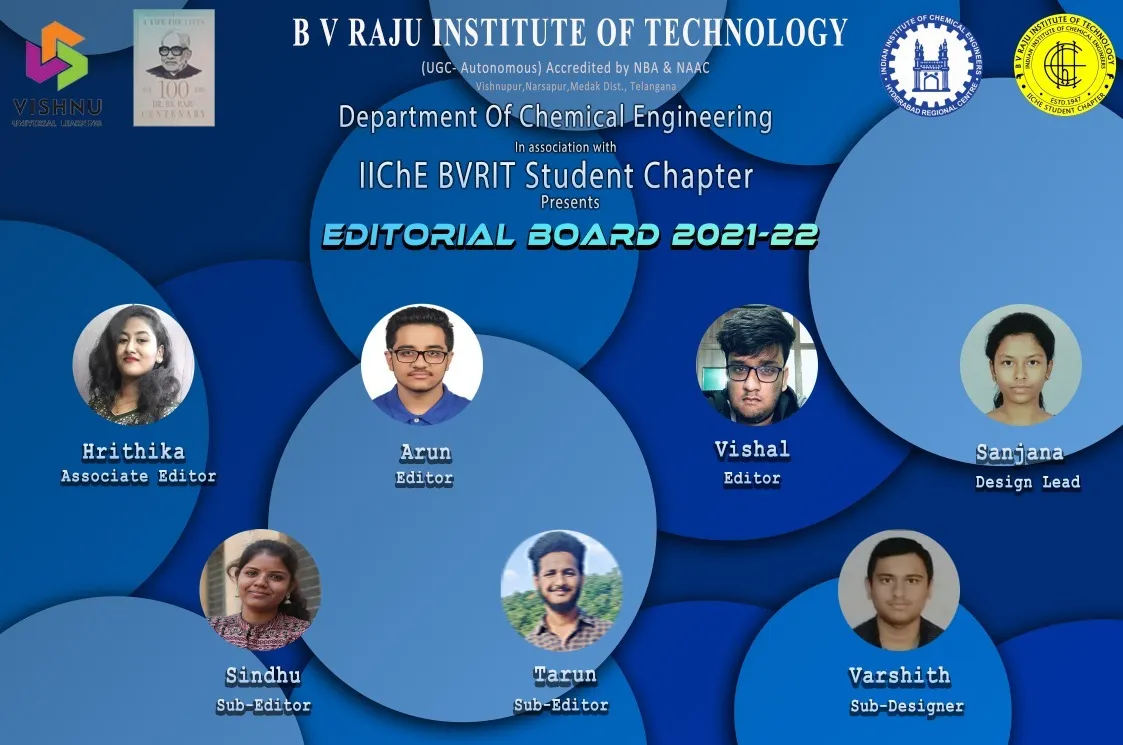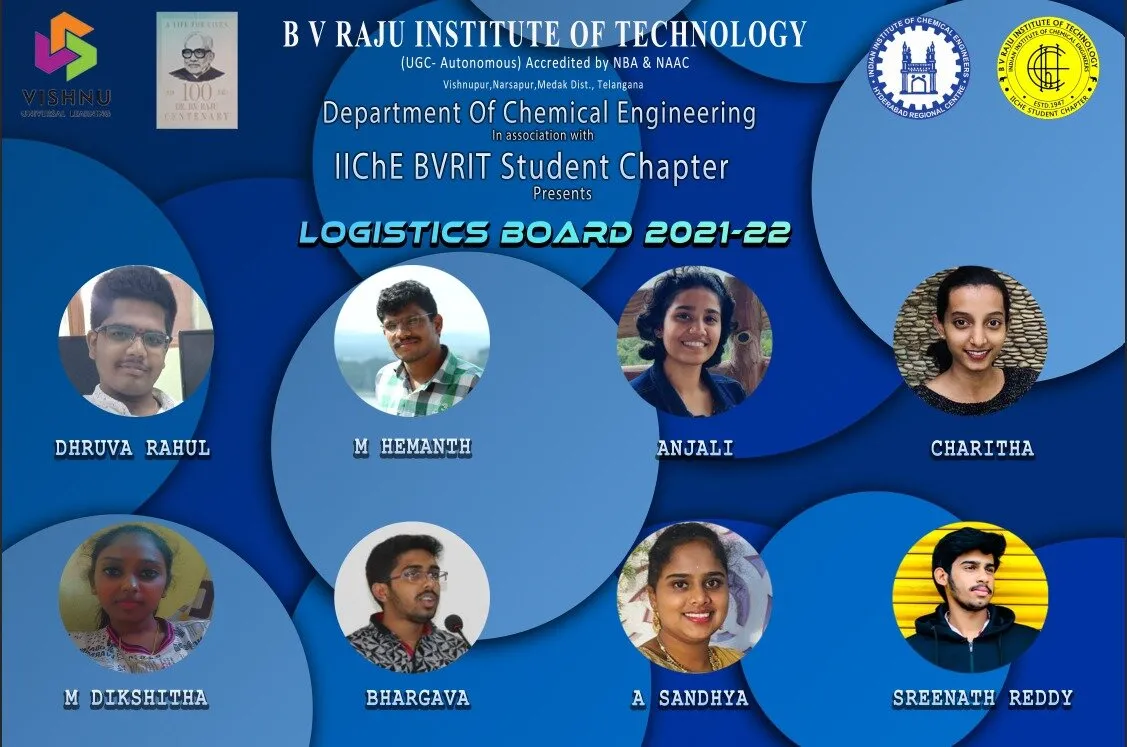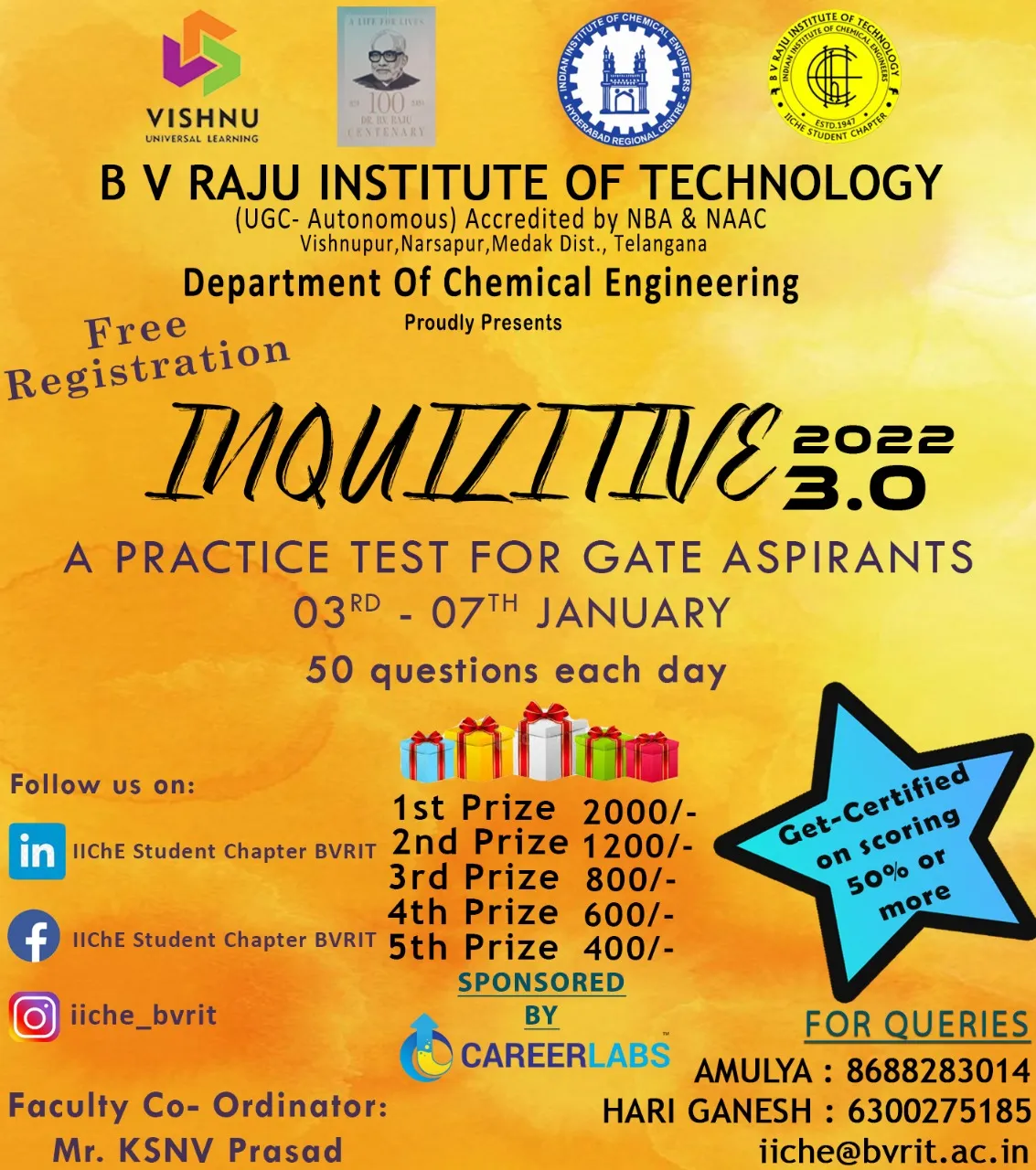 The results of the third season of Inquisitive conducted between 3rd-7th January 2022 is as follows
| | | | | |
| --- | --- | --- | --- | --- |
| Rank | Name  | College Name | Inquizitive ID | Percentage |
| 1 | Narlakanti Manohar | BV RAJU INSTITUTE OF TECHNOLOGY, NARSAPUR, TELANGANA | INQ2022021 | 81.2 |
| 2 | Nepalli Vamsi Krishna | RVR&JC COLLEGE OF ENGINEERING, GUNTUR, ANDHRA PRADESH | INQ2022254 | 80.3 |
| 3 | Sarvesha Sachin Bhatgare | SRI GURU GOBIND SINGH JI INSTITUTE OF ENGINEERING AND TECHNOLOGY, NANDED, MAHARASHTRA. | INQ2022271 | 71.9 |
| 4 | Thanrani Tharan M | IIT MADRAS, CHENNAI, TAMIL NADU | INQ2022287 | 70 |
| 5 | Prajwal Arun Pissude | UNIVERSITY INSTITUTE OF CHEMICAL TECHNOLOGY, JALGAON, MAHARASHTRA | INQ2022468 | 66.1 |
For complete details on the Annual events conducted by the IIChE, please click the following link: https://drive.google.com/file/d/1n7lpuZsj2MuVcRP-98kxjD1rrWXtpVZJ/view?usp=sharing