Due to the lockdown and long-missing regular academic activities Department of EEE, BVRIT, Narsapur has switched to online academic activities from the past two weeks.
Microsoft team tools, Zoom, Kahoot, Edmodo etc., are the online platforms being used for the academic activities in which the Faculty and Students are found to be responding actively.
Thus, teach from home and learn & work from home concepts are available online for the 'BVRITans' at present.
TEACHING LEARNING PRACTICES:
Computer Methods in Power Systems
Power Semi-Conductor Drives
Electrical Distribution Systems
Microprocessors and Microcontrollers
S.NO
YEAR & SEM
SECTION
NAME OF THE COURSE
NAME OF THE FACULTY
NAME OF THE ACTIVITY
ICT TOOL USED
1
II EEE II SEM
A&B
CONTROL SYSTEMS
A VIJAY KUMAR
UNIT-V QUIZ-1
GOOGLE FORMS
2
II EEE II SEM
A&B
CONTROL SYSTEMS
A VIJAY KUMAR
UNIT-V QUIZ-2
GOOGLE FORMS
3
II EEE II SEM
A
DIGITAL ELECTRONICS
A CHANDRA SEKHAR
UNIT-V QUIZ-1
GOOGLE FORMS
4
II EEE II SEM
A&B
ANALOG ELECTRONICS
R GANESH
UNIT-V QUIZ-1
GOOGLE FORMS
5
II EEE II SEM
A
ELECTRICAL MACHINES-II
Dr. C SUBBARAMI REDDY
UNIT-V QUIZ-1
GOOGLE FORMS
6
II EEE II SEM
A
ELECTRICAL MACHINES-II
Dr. C SUBBARAMI REDDY
UNIT-V QUIZ-2
GOOGLE FORMS
5
II EEE II SEM
A
ELECTRICAL MACHINES-II
Dr. C SUBBARAMI REDDY
UNIT-VI
LECTURE VIDEO
GOOGLE CLASSROOM
6
II EEE II SEM
A
ELECTRICAL MACHINES-II
Dr. C SUBBARAMI REDDY
UNIT-VI
LECTURE NOTES
GOOGLE CLASSROOM
7
I YEAR II SEM
LH-5
BASIC ELEC. ENGG.
MD JANI PASHA
UNIT-IV
LECTURE
ZOOM MEETINGS
8
I YEAR II SEM
LH-4
BASIC ELEC. ENGG.
G NARESH KUMAR
UNIT-V LECTURE
ZOOM MEETINGS
9
I YEAR II SEM
LH-8
BASIC ELEC. ENGG.
P CHANDRA BABU
UNIT-IV LECTURE
ZOOM MEETINGS
10
I YEAR  II SEM
LH-2
BASIC ELEC. ENGG.
Dr. M PRAMEELA
UNIT-IV LECTURE
ZOOM MEETINGS
11
I YEAR II SEM
LH-3
BASIC ELEC. ENGG.
Dr. S SARAVANAN
UNIT-V LECTURE VIDEOS (YOUTUBE)
EDMODO
12
III YEAR II SEM
B
NEURAL NETWORKS & FUZZY LOGIC CONTROLLERS
J BANGARRAJU
UNIT-V LECTURE VIDEOS
GOOGLE CLASSROOM
S.NO
YEAR & SEM
SECTION
NAME OF THE COURSE
NAME OF THE FACULTY
NAME OF THE ACTIVITY
ICT TOOL USED
1
I YEAR II SEM
LH-3, LH-5
BASIC ELEC. ENGG.
MD JANI PASHA
UNIT-IV
LECTURE
ZOOM MEETINGS
2
I YEAR II SEM
LH1-LH10
BASIC ELEC. ENGG.
Dr. K V B REDDY
UNIT-V
LECTURE
ZOOM MEETINGS
3
I YEAR II SEM
LH-4
BASIC ELEC. ENGG.
G NARESH KUMAR
UNIT V LECTURE
ZOOM MEETINGS
4
I YEAR II SEM
LH1-LH10
BASIC ELEC. ENGG.
ALL BEE FACULTY
UNIT IV QUIZ 2
GOOGLE CLASSROOM
5
I YEAR II SEM
LH 8
BASIC ELEC. ENGG.
P. CHANDRA BABU
UNIT 4
ZOOM MEETINGS
6
I YEAR II SEM
LH-4
BASIC ELEC. ENGG.
G NARESH KUMAR
UNIT V ASSIGNMENT
GOOGLE CLASSROOM
7
III YEAR II SEM
A&B
MICROPROCESSORS & MICROCONTROLLERS
K.RAMA
UNIT-V
QUIZ-1
GOOGLE FORMS
8
III YEAR II SEM
A&B
MICROPROCESSORS & MICROCONTROLLERS
K.RAMA
UNIT-III, IV & V
LECTURE NOTES
GOOGLE CLASSROOM
9
IV YEAR II SEM
B
PROJECT WORK
Dr. N BHOOPAL
REVIEW
EMAIL & VIDEO CALL
10
I YEAR II SEM
LH-3
BASIC ELEC. ENGG.
Dr. S SARAVANAN
UNIT-IV YOUTUBE VIDEOS
EDMODO
11
III YEAR II SEM
B
NEURAL NETWORKS AND FUZZY LOGIC CONTROLLERS
J BANGARRAJU
UNIT-V QUIZ-1
GOOGLE CLASSROOM
S.NO
YEAR & SEM
SECTION
NAME OF THE COURSE
NAME OF THE FACULTY
NAME OF THE ACTIVITY
ICT TOOL USED
1
I YEAR II SEM
LH-3, 5 & 7
BASIC ELEC. ENGG.
MD JANI PASHA
UNIT-V
LECTURE
ZOOM MEETINGS
2
I YEAR II SEM
LH-1&6
BASIC ELEC. ENGG.
Dr. K V B REDDY
INDUCTION MOTOR
ZOOM MEETING
3
I YEAR II SEM
LH-8
BASIC ELEC. ENGG.
P. CHANDRA BABU
UNIT -5
ZOOM MEETINGS
4
I YEAR II SEM
LH 2
BASIC ELEC. ENGG.
DR.M.PRAMEELA
UNIT-IV
LECTURE
ZOOM MEETINGS
5
I YEAR II SEM
LH3
BASIC ELEC. ENGG.
Dr. S SARAVANAN
MCB YOUTUBE VIDEO MATERIALS
EDMODO
6
II YEAR II SEM
A
ELECTRICAL MACHINES-II
Dr. C SUBBRAMIREDDY
UNIT-V: PARALLEL OPERATION OF ALTERNATORS- INTRODUCTION, THREE DARK LAMP METHOD VIDEOS
GOOGLE CLASSROOM
7
II YEAR II SEM
A
ELECTRICAL MACHINES-II
Dr. C SUBBRAMIREDDY
UNIT-VI: POWER CIRCLES, EXCITATION CIRCLES, HUNTING AND STARTING METHODS OF SYNCHRONOUS MOTOR VIDEOS
GOOGLE CLASSROOM
8
II YEAR II SEM
B
DIGITAL ELECTRONICS
K HAREESH KUMAR
ASM CHARTS EXPLAINED AND DOUBTS CLARIFICATION
GOOGLE CLASSROOM
9
III YEAR II SEM
A&B
MICROPROCESSORS & MICROCONTROLLERS
K RAMA
UNIT-V
(QUIZ-2)
GOOGLE FORMS
S.NO
YEAR & SEM
SECTION
NAME OF THE COURSE
NAME OF THE FACULTY
NAME OF THE ACTIVITY
ICT TOOL USED
1
I YEAR II SEM
LH-3, 5 & 7
BASIC ELEC ENGG
B RAVINDHAR
PROBLEMS ON EMF EQUATION OF DC GENERATOR AND SHUNT GENERATOR
ZOOM MEETINGS
2
I YEAR II SEM
LH-3, 5 & 8
BASIC ELEC ENGG
Dr. SARAVANAN S
LT SWITCHGEAR FUSE,MCB, MCCB
ZOOM MEETINGS
3
I YEAR II SEM
LH-1 & 6
BASIC ELEC ENGG
Dr. K V B REDDY
THREE-PHASE INDUCTION MOTOR
ZOOM MEETINGS
4
I YEAR II SEM
LH-2
BASIC ELEC ENGG
Dr. M.PRAMEELA
UNIT-IV
LECTURE
ZOOM MEETINGS
5
I YEAR II SEM
LH-3
BASIC ELEC ENGG
Dr. S SARAVANAN
ELCB, TYPES OF WIRING MATERIALS
EDMODO
6
I YEAR II SEM
 LH-8 & 9
BASIC ELEC ENGG
P CHANDRA BABU
UNIT-V
ZOOM MEETINGS
7
II EEE II SEM
B
ELECTRICAL MACHINES II
V DHANUNJAYA
UNIT 6 PART 3 VIDEO
GOOGLE CLASSROOM
8
II, III YEAR II SEM
A&B
PLACEMENT WORK
R MUNEESHWAR
TCS CODE VITA
GOOGLE FORMS
9
III EEE II SEM
B
NEURAL NETWORKS & FUZZY LOGIC CONTROLLERS
J BANGARRAJU
UNIT-V
ZOOM MEETINGS
10
IV YEAR II SEM
A&B
MAJOR PROJECT
N.RAMCHANDER
PROJECT REVIEW AND THESIS CORRECTIONS
ZOOM/WHATSAPP
11
IV YEAR II SEM
A
MAJOR PROJECT
DR S SARAVANAN
PROGRESS REVIEW
PHONE/MAIL/ WHATS APP
12
IV YEAR II SEM
A
MAJOR PROJECT
K HAREESH KUMAR
PROJECT REVIEW
PHONE/MAIL/ WHATS APP
13
IV YEAR II SEM
A
MAJOR PROJECT
S SRINIVASU
PROJECT REVIEW
PHONE/MAIL/ WHATS APP
14
IV YEAR II SEM
A
MAJOR PROJECT
Dr.M.PRAMEELA
PROJECT REVIEW
PHONE/ WHATS APP
15
IV YEAR II SEM
A & B
MAJOR PROJECT
R MUNEESHWAR
PROJECT REVIEW
PHONE/MAIL/ WHATS APP
16
IV YEAR II SEM
A
MAJOR PROJECT
N.BHOOPAL
MATLAB & SIMULATION
PHONE/MAIL/WHATSAPP
S.NO
YEAR & SEM
SECTION
NAME OF THE COURSE
NAME OF THE FACULTY
NAME OF THE ACTIVITY
ICT TOOL USED
1
I YEAR II SEM
LH-1&6
BASIC ELEC ENGG
Dr. K V B REDDY
UNI-V
ZOOM MEETINGS
2
I YEAR II SEM
LH-3, 5&7
BASIC ELEC ENGG
Dr. S SARAVANAN
UNIT VI
MCCB, ELCB, CABLES
ZOOM MEETINGS
3
I YEAR II SEM
LH-3
BASIC ELEC ENGG
Dr. S SARAVANAN
STUDY MATERIAL – EARTHING
EDMODO
4
I YEAR II SEM
LH-3, 5 & 7
BASIC ELEC ENGG
B RAVINDHAR
PROBLEMS ON DC COMPOUND GENERATOR AND SHUNT MOTOR
ZOOM MEETINGS
5
I YEAR II SEM
LH- 8
BASIC ELEC ENGG
P. CHANDRA BABU
UNIT V
ZOOM MEETINGS
6
II YEAR II SEM
A
ELECTRICAL MACHINES II
Dr.C.SUBBARAMIREDDY
UNIT VI
 QUIZ
GOOGLE CLASSROOM
7
II YEAR II SEM
B
ELECTRICAL MACHINES II
V DHANUNJAYA
UNIT VI
 QUIZ
GOOGLE CLASSROOM
8
II YEAR II SEM
B
DIGITAL ELECTRONICS
HAREESH KUMAR
PLD LOGICS
DOUBTS CLARIFICATION
ZOOM MEETINGS
9
III YEAR II SEM
A&B
PLACEMENT WORK
R MUNEESHWAR
TCS CODE VITA
ZOOM MEETINGS
10
III YEAR II SEM
B
ELECTRICAL DISTRIBUTION SYSTEMS
A.MURALI
PREVIOUS QUESTION PAPERS
GOOGLE CLASSROOM
11
IV YEAR II SEM
B
MAJOR PROJECT
Dr. N.BHOOPAL
MATLAB & SIMULATION
PHONE/MAIL/WHATSAPP
12
IV YEAR II SEM
A
MAJOR PROJECT
V DHANUNJAYA
PROJECT REVIEW
PHONE/MAIL/WHATSAPP
13
IV YEAR II SEM
B
MAJOR PROJECT
V DHANUNJAYA
PROJECT REVIEW
PHONE/MAIL/WHATSAPP
14
IV YEAR II SEM
B
MAJOR PROJECT
Dr. S SARAVANAN
PROJECT REVIEW
PHONE/MAIL/WHATSAPP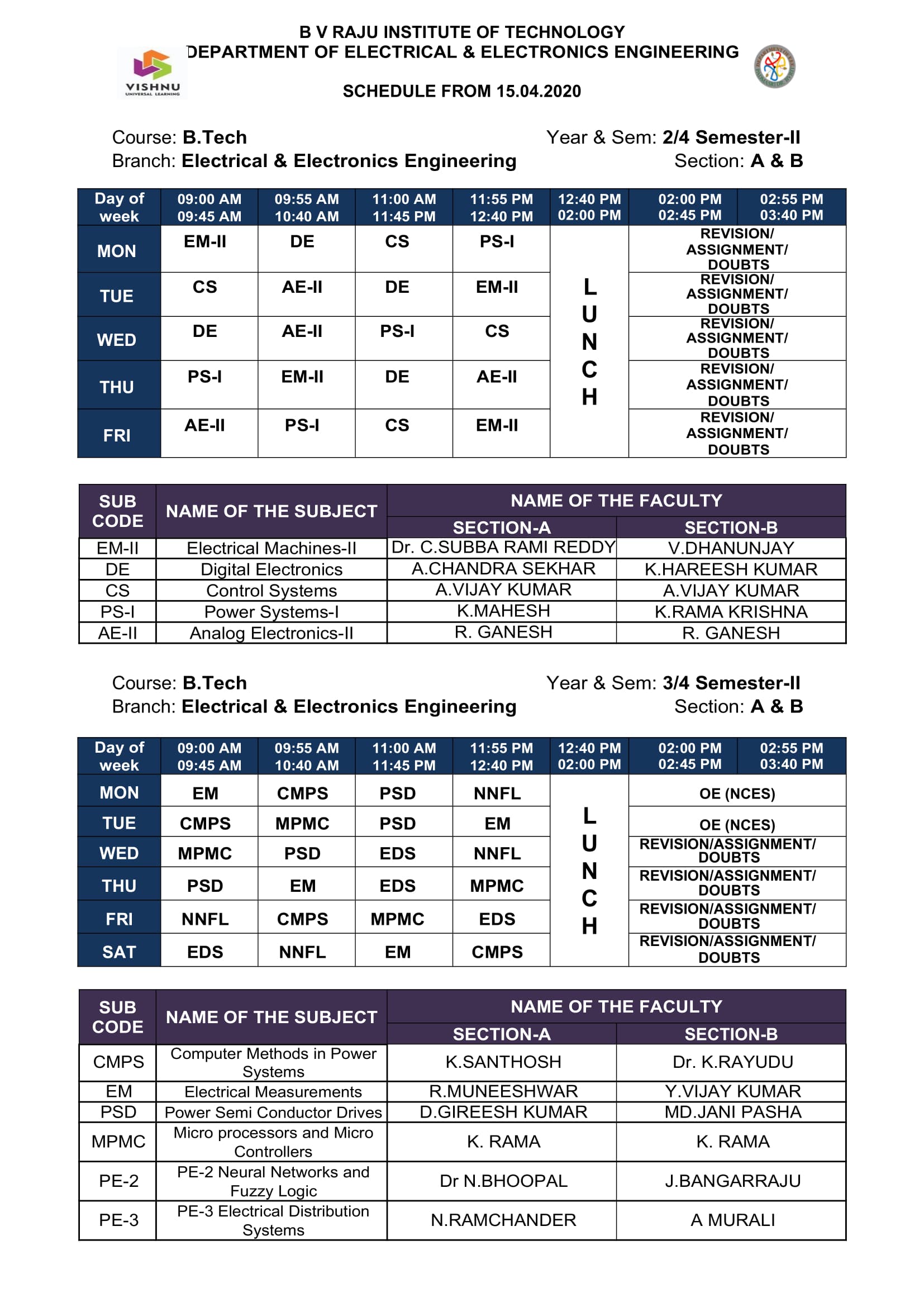 II EEE II Sem – Section-A & B

S.No
Name of the course
Name of the Faculty
Name of the Topic
TLP Used
16.04.2020
1
ELECTRICAL MACHINES-II
Dr C.SUBBA RAMI REDDY
V DHANUNJAYA
UNIT VI SYNCHRONOUS MOTORS
ZOOM MEETINGS
UNIT III SYNCHRONOUS MACHINES AND CHARACTERISTICS PROBLEMS AND SOLUTIONS
ZOOM MEETINGS
2
DIGITAL ELECTRONICS
A.CHANDRA SEKHAR
K HAREESH KUMAR
UNIT VI ASM CHARTS AND PLDS IMPORTANT QPS ANALYSIS
ZOOM MEETINGS
3
POWER SYSTEMS-I
K RAMAKRISHNA
K.MAHESH
ATTENUATION AND DISTROTION OF WAVES
ZOOM MEETINGS
17.04.2020
1
ELECTRICAL MACHINES-II
Dr C.SUBBA RAMI REDDY
V DHANUNJAYA
UNIT IV  REGULATION OF SYNCHRONOUS GENERATORS PROBLEMS AND SOLUTIONS
ZOOM MEETINGS
2
CONTROL SYSTEMS
A.VIJAY KUMAR
UNIT-I REVIEW AND MODEL QUESTIONS
ZOOM MEETINGS
3
POWER SYSTEMS-I
K RAMAKRISHNA
K.MAHESH
TRAVELLING WAVES AND NUMERICAL PROBLEMS ON REFLECTION AND REFRACTION
ZOOM MEETINGS
4
ANALOG ELECTRONIS-II
R. GANESH
UNIT-I REVIEW AND MODEL QUESTIONS
ZOOM MEETINGS
20.04.2020
1
ELECTRICAL MACHINES-II
Dr C.SUBBA RAMI REDDY
V DHANUNJAYA
UNIT IV  REGULATION OF SYNCHRONOUS GENERATORS PROBLEMS AND SOLUTIONS
ZOOM MEETINGS
2
DIGITAL ELECTRONICS
A.CHANDRA SEKHAR
K HAREESH KUMAR
UNIT-V DESIGN OF SEQUENTIAL CIRCUITS PREVIOUS QUESTIONS ANALYSIS
ZOOM MEETINGS
3
CONTROL SYSTEMS
A.VIJAY KUMAR
UNIT-II REVIEW AND MODEL QUESTIONS
ZOOM MEETINGS
4
POWER SYSTEMS-I
K RAMAKRISHNA
K.MAHESH
POWER FACTOR IMPROVEMENT – NUMERICAL PROBLEMS
ZOOM MEETINGS
5
ANALOG ELECTRONIS-II
R. GANESH
UNIT-II REVIEW AND MODEL QUESTIONS
ZOOM MEETINGS
21.04.2020
1
ELECTRICAL MACHINES-II
Dr C.SUBBA RAMI REDDY
V DHANUNJAYA
UNIT V  PARALLEL OPERATION OF ALTERNATORS PROBLEMS AND SOLUTIONS
ZOOM MEETINGS
2
DIGITAL ELECTRONICS
A.CHANDRA SEKHAR
K HAREESH KUMAR
UNIT VDESIGN OF SEQUENTIAL CIRCUITS PREVIOUS QUESTIONS ANALYSIS
ZOOM MEETINGS
3
CONTROL SYSTEMS
A.VIJAY KUMAR
UNIT-III REVIEW AND MODEL QUESTIONS
ZOOM MEETINGS
4
ANALOG ELECTRONIS-II
R. GANESH
UNIT-III REVIEW AND MODEL QUESTIONS
ZOOM MEETINGS
22.04.2020
1
DIGITAL ELECTRONICS
A.CHANDRA SEKHAR
K HAREESH KUMAR
UNIT IV SEQUENTIAL CIRCUITS AND DISCUSSIONS
ZOOM MEETINGS
2
CONTROL SYSTEMS
A.VIJAY KUMAR
UNIT-IV REVIEW AND MODEL QUESTIONS
ZOOM MEETINGS
3
ANALOG ELECTRONIS-II
R. GANESH
UNIT-IV REVIEW AND MODEL QUESTIONS
ZOOM MEETINGS
23.04.2020
1
ELECTRICAL MACHINES-II
Dr C.SUBBA RAMI REDDY
V DHANUNJAYA
UNIT V  PARALLEL OPERATION OF ALTERNATORS PROBLEMS AND SOLUTIONS
ZOOM MEETINGS
2
DIGITAL ELECTRONICS
A.CHANDRA SEKHAR
K HAREESH KUMAR
UNIT IV SEQUENTIAL CIRCUITS AND DISCUSSIONS
ZOOM MEETINGS
3
POWER SYSTEMS-I
K RAMAKRISHNA
K.MAHESH
CORONA – FACTORS EFFECTING CORONA
ZOOM MEETINGS
24.04.2020
1
ELECTRICAL MACHINES-II
Dr C.SUBBA RAMI REDDY
V DHANUNJAYA
UNIT I POLYPHASE INDUCTION MOTOR NUMERICAL PROBLEMS AND SOLUTIONS
ZOOM MEETINGS
2
CONTROL SYSTEMS
A.VIJAY KUMAR
UNIT-V REVIEW AND MODEL QUESTIONS
ZOOM MEETINGS
3
POWER SYSTEMS-I
K RAMAKRISHNA
K.MAHESH
CORONA LOSS EQUATION – CRITICAL DISRUPTIVE VOLTAGE-NUMERICAL PROBLEMS
ZOOM MEETINGS
4
ANALOG ELECTRONIS-II
R. GANESH
UNIT-V REVIEW AND MODEL QUESTIONS
ZOOM MEETINGS
27.04.2020
1
ELECTRICAL MACHINES-II
Dr C.SUBBA RAMI REDDY
V DHANUNJAYA
UNIT I POLYPHASE INDUCTION MOTOR NUMERICAL PROBLEMS AND SOLUTIONS
ZOOM MEETINGS
2
DIGITAL ELECTRONICS
A.CHANDRA SEKHAR
K HAREESH KUMAR
UNIT III COMBINATIONAL CIRCUITS AND DISCUSSION OF OLD PAPERS
ZOOM MEETINGS
3
CONTROL SYSTEMS
A.VIJAY KUMAR
UNIT-VI REVIEW AND MODEL QUESTIONS
ZOOM MEETINGS
4
POWER SYSTEMS-I
K RAMAKRISHNA
K.MAHESH
HOW TO REDUCE CORONA – NUMERICAL PROBLEMS
ZOOM MEETINGS
5
ANALOG ELECTRONIS-II
R. GANESH
UNIT-VI REVIEW AND MODEL QUESTIONS
ZOOM MEETINGS
28.04.2020
1
ELECTRICAL MACHINES-II
Dr C.SUBBA RAMI REDDY
V DHANUNJAYA
UNIT II SINGLE PHASE MOTORS NUMERICAL PROBLEMS AND SOLUTIONS
ZOOM MEETINGS
2
DIGITAL ELECTRONICS
A.CHANDRA SEKHAR
K HAREESH KUMAR
UNIT III COMBINATIONAL CIRCUITS AND DISCUSSION OF OLD PAPERS
ZOOM MEETINGS
3
CONTROL SYSTEMS
A.VIJAY KUMAR
UNIT-I,II MODEL TUTORIAL QUESTIONS
ZOOM MEETINGS
4
ANALOG ELECTRONIS-II
R. GANESH
UNIT-I,II MODEL TUTORIAL QUESTIONS
ZOOM MEETINGS
29.04.2020
1
DIGITAL ELECTRONICS
A.CHANDRA SEKHAR
K HAREESH KUMAR
UNIT II BOOLEAN ALGEBRA PREVIOUS MODEL QUESTIONS
ZOOM MEETINGS
2
CONTROL SYSTEMS
A.VIJAY KUMAR
UNIT-III,IV MODEL TUTORIAL QUESTIONS
ZOOM MEETINGS
3
ANALOG ELECTRONIS-II
R. GANESH
UNIT-III,IV MODEL TUTORIAL QUESTIONS
ZOOM MEETINGS
30.04.2020
1
ELECTRICAL MACHINES-II
Dr C.SUBBA RAMI REDDY
V DHANUNJAYA
UNIT VI SYNCHRONOUS MOTOR NUMERICAL PROBLEMS AND SOLUTIONS
ZOOM MEETINGS
2
DIGITAL ELECTRONICS
A.CHANDRA SEKHAR
K HAREESH KUMAR
UNIT I NUMBER SYSTEMS PREVIOUS MODEL QUESTIONS
ZOOM MEETINGS
01.05.2020
1
ELECTRICAL MACHINES-II
Dr C.SUBBA RAMI REDDY
V DHANUNJAYA
UNIT VI SYNCHRONOUS MOTOR NUMERICAL PROBLEMS AND SOLUTIONS
ZOOM MEETINGS
2
CONTROL SYSTEMS
A.VIJAY KUMAR
UNIT-V,VI MODEL TUTORIAL QUESTIONS
ZOOM MEETINGS
3
ANALOG ELECTRONIS-II
R. GANESH
UNIT-V,VI MODEL TUTORIAL QUESTIONS
ZOOM MEETINGS
III EEE II Sem – Section-A & B

S.No
Name of the course
Name of the Faculty
Name of the Topic
TLP Used
16.04.2020
1
POWER SEMI CONDUCTOR DRIVES
D.GIREESH KUMAR
MD JANI PASHA
UNIT-4 REVISON AND PROBLEM SOLVING
ZOOM MEETINGS
2
MICRO PROCESSORS AND MICRO CONTROLLERS
K. RAMA
UNIT-1 8086 ARCHTECTURE
ZOOM MEETINGS
3
PE-2 NEURAL NETWORKS AND FUZZY LOGIC
Dr. N BHOOPAL
J.BANGARRAJU
UNIT-1 INTRODUCTION TO NEURAL NETWORKS
ZOOM MEETINGS
4
PE-3 ELECTRICAL DISTRIBUTION SYSTEMS
N.RAMCHANDER
A MURALI
UNIT V: VOLTAGE CONTROL & POWER FACTOR IMPROVEMENT PROBLEMS
ZOOM MEETINGS
17.04.2020
1
COMPUTER METHODS IN POWER SYSTEMS
Dr. K RAYUDU
K.SANTHOSH
UNIT-1 GRAPH THEORY,Y BUS PROBLEM SOLVING METHODS
ZOOM MEETINGS
2
ELECTRICAL MEASUREMENTS
R.MUNEESHWAR
UNIT-I REVIEW AND MODEL QUESTIONS
ZOOM MEETINGS
3
MICRO PROCESSORS AND MICRO CONTROLLERS
K. RAMA
UNIT-1 8086 ARCHTECTURE
ZOOM MEETINGS
4
PE-2 NEURAL NETWORKS AND FUZZY LOGIC
Dr. N BHOOPAL
J.BANGARRAJU
UNIT-1 INTRODUCTION TO NEURAL NETWORKS
ZOOM MEETINGS
5
PE-3 ELECTRICAL DISTRIBUTION SYSTEMS
N.RAMCHANDER
A MURALI
UNIT V: VOLTAGE CONTROL & POWER FACTOR IMPROVEMENT PROBLEMS
ZOOM MEETINGS
18.04.2020
1
COMPUTER METHODS IN POWER SYSTEMS
Dr. K RAYUDU
K.SANTHOSH
UNIT 1 Z BUS METHODS REVISON AND PROBLEMS SOLVING
ZOOM MEETINGS
2
ELECTRICAL MEASUREMENTS
R.MUNEESHWAR
UNIT-II REVIEW AND MODEL QUESTIONS
ZOOM MEETINGS
3
PE-3 ELECTRICAL DISTRIBUTION SYSTEMS
N.RAMCHANDER
A MURALI
UNIT I: INTRODUCTION & GENERAL CONCEPTS REVISION
ZOOM MEETINGS
20.04.2020
1
COMPUTER METHODS IN POWER SYSTEMS
Dr. K RAYUDU
K.SANTHOSH
UNIT-2 LOAD FLOWS REVISON AND  PROBLEM SOLVING
ZOOM MEETINGS
2
ELECTRICAL MEASUREMENTS
R.MUNEESHWAR
UNIT-III REVIEW AND MODEL QUESTIONS
ZOOM MEETINGS
3
POWER SEMI CONDUCTOR DRIVES
D.GIREESH KUMAR
MD JANI PASHA
UNIT-5 REVISON
ZOOM MEETINGS
21.04.2020
1
COMPUTER METHODS IN POWER SYSTEMS
Dr. K RAYUDU
K.SANTHOSH
UNIT-2 LOAD FLOWS REVISON AND PROBLEM SOLVING
ZOOM MEETINGS
2
ELECTRICAL MEASUREMENTS
R.MUNEESHWAR
UNIT-IV REVIEW AND MODEL QUESTIONS
ZOOM MEETINGS
3
POWER SEMI CONDUCTOR DRIVES
D.GIREESH KUMAR
MD JANI PASHA
UNIT-4 REVISON AND PROBLEM SOLVING
ZOOM MEETINGS
4
MICRO PROCESSORS AND MICRO CONTROLLERS
K. RAMA
UNIT-2 INSTRUCTION SET&ALP OF 8086
ZOOM MEETINGS
5
PE-2 NEURAL NETWORKS AND FUZZY LOGIC
Dr. N BHOOPAL
J.BANGARRAJU
UNIT-2 SINGLE AND MULTI LAYER  NEURAL NETWORKS
ZOOM MEETINGS
22.04.2020
1
POWER SEMI CONDUCTOR DRIVES
D.GIREESH KUMAR
MD JANI PASHA
UNIT-5 REVISON
ZOOM MEETINGS
2
MICRO PROCESSORS AND MICRO CONTROLLERS
K. RAMA
UNIT-2 INSTRUCTION SET&ALP OF 8086
ZOOM MEETINGS
3
PE-2 NEURAL NETWORKS AND FUZZY LOGIC
Dr. N BHOOPAL
J.BANGARRAJU
UNIT-2 SINGLE AND MULTI LAYER  NEURAL NETWORKS
ZOOM MEETINGS
4
PE-3 ELECTRICAL DISTRIBUTION SYSTEMS
N.RAMCHANDER
A MURALI
UNIT II: DISTRIBUTION FEEDERS & SUBSTATIONS: DESIGN CONSIDERATIONS OF DISTRIBUTION FEEDERS REVISION
ZOOM MEETINGS
23.04.2020
1
POWER SEMI CONDUCTOR DRIVES
D.GIREESH KUMAR
MD JANI PASHA
UNIT-4 REVISON AND PROBLEM SOLVING
ZOOM MEETINGS
2
MICRO PROCESSORS AND MICRO CONTROLLERS
K. RAMA
UNIT-3 MEMORY AND I/O INTERFACE
ZOOM MEETINGS
3
PE-2 NEURAL NETWORKS AND FUZZY LOGIC
Dr. N BHOOPAL
J.BANGARRAJU
UNIT-3 ASSOCIATE MEMORIES-1
ZOOM MEETINGS
4
PE-3 ELECTRICAL DISTRIBUTION SYSTEMS
N.RAMCHANDER
A MURALI
UNIT III: DISTRIBUTION SYSTEM ANALYSIS: VOLTAGE DROP AND POWERLOSS CALCULATIONS REVISION REVISION
ZOOM MEETINGS
24.04.2020
1
COMPUTER METHODS IN POWER SYSTEMS
Dr. K RAYUDU
K.SANTHOSH
UNIT-3 PER UNIT ANALYSISREVISON AND PROBLEM SOLVING
ZOOM MEETINGS
2
ELECTRICAL MEASUREMENTS
R.MUNEESHWAR
UNIT-V REVIEW AND MODEL QUESTIONS
ZOOM MEETINGS
3
MICRO PROCESSORS AND MICRO CONTROLLERS
K. RAMA
UNIT-4 INTRODUCTION TO 8051
ZOOM MEETINGS
4
PE-2 NEURAL NETWORKS AND FUZZY LOGIC
Dr. N BHOOPAL
J.BANGARRAJU
UNIT-3 ASSOCIATE MEMORIES-1
ZOOM MEETINGS
5
PE-3 ELECTRICAL DISTRIBUTION SYSTEMS
N.RAMCHANDER
A MURALI
UNIT IV: PROTECTIVE DEVICES & CO-ORDINATION REVISION
ZOOM MEETINGS
25.04.2020
1
COMPUTER METHODS IN POWER SYSTEMS
Dr. K RAYUDU
K.SANTHOSH
UNIT -3 FAULT ANALYSIS REVISON AND PROBLEMS SOLVING
ZOOM MEETINGS
2
ELECTRICAL MEASUREMENTS
R.MUNEESHWAR
UNIT-I,II MODEL TUTORIAL QUESTIONS
ZOOM MEETINGS
3
PE-3 ELECTRICAL DISTRIBUTION SYSTEMS
N.RAMCHANDER
A MURALI
UNIT V: VOLTAGE CONTROL & POWER FACTOR IMPROVEMENT REVISION
ZOOM MEETINGS
27.04.2020
1
COMPUTER METHODS IN POWER SYSTEMS
Dr. K RAYUDU
K.SANTHOSH
UNIT-4 REVISON AND PROBLEMS SOLVING
ZOOM MEETINGS
2
ELECTRICAL MEASUREMENTS
R.MUNEESHWAR
UNIT-III,IV MODEL TUTORIAL QUESTIONS
ZOOM MEETINGS
3
POWER SEMI CONDUCTOR DRIVES
D.GIREESH KUMAR
MD JANI PASHA
UNIT-5 REVISON
ZOOM MEETINGS
28.04.2020
1
COMPUTER METHODS IN POWER SYSTEMS
Dr. K RAYUDU
K.SANTHOSH
UNIT-5 REVISON AND PROBLEMS SOLVING
ZOOM MEETINGS
2
ELECTRICAL MEASUREMENTS
R.MUNEESHWAR
UNIT-V MODEL TUTORIAL QUESTIONS
ZOOM MEETINGS
3
POWER SEMI CONDUCTOR DRIVES
D.GIREESH KUMAR
MD JANI PASHA
UNIT-4 REVISON AND PROBLEM SOLVING
ZOOM MEETINGS
4
MICRO PROCESSORS AND MICRO CONTROLLERS
K. RAMA
UNIT-4 INTRODUCTION TO 8051
ZOOM MEETINGS
5
PE-2 NEURAL NETWORKS AND FUZZY LOGIC
Dr. N BHOOPAL
J.BANGARRAJU
UNIT-4 ASSOCIATE MEMORIES-2
ZOOM MEETINGS
29.04.2020
3
POWER SEMI CONDUCTOR DRIVES
D.GIREESH KUMAR
MD JANI PASHA
UNIT-5 REVISON
ZOOM MEETINGS
4
MICRO PROCESSORS AND MICRO CONTROLLERS
K. RAMA
UNIT-8051 APPLICATIONS
ZOOM MEETINGS
5
PE-2 NEURAL NETWORKS AND FUZZY LOGIC
Dr. N BHOOPAL
J.BANGARRAJU
UNIT-4 ASSOCIATE MEMORIES-2
ZOOM MEETINGS
6
PE-3 ELECTRICAL DISTRIBUTION SYSTEMS
N.RAMCHANDER
A MURALI
PREVIOUS PAPER DISCUSSION
ZOOM MEETINGS
30.04.2020
1
POWER SEMI CONDUCTOR DRIVES
D.GIREESH KUMAR
MD JANI PASHA
UNIT-4 REVISON AND PROBLEM SOLVING
ZOOM MEETINGS
2
MICRO PROCESSORS AND MICRO CONTROLLERS
K. RAMA
UNIT-8051 APPLICATIONS
ZOOM MEETINGS
3
PE-2 NEURAL NETWORKS AND FUZZY LOGIC
Dr. N BHOOPAL
J.BANGARRAJU
UNIT-5 FUZZY LOGIC
ZOOM MEETINGS
4
PE-3 ELECTRICAL DISTRIBUTION SYSTEMS
N.RAMCHANDER
A MURALI
PREVIOUS PAPER DISCUSSION
ZOOM MEETINGS
01.05.2020
1
PE-2 NEURAL NETWORKS AND FUZZY LOGIC
Dr. N BHOOPAL
J.BANGARRAJU
UNIT-5 FUZZY LOGIC
ZOOM MEETINGS
SCHEDULE OF LECTURE AND ASSESSMENTS:
Section-A
S.No

Name of the course

Name of the Faculty

Name of the Topic

Date of Conduction

TLP Used

Type of Assessment

Assessment Tools

Outcomes

1

Electrical Machines-II

Dr. C.SUBBA RAMI REDDY

Regulation and Parallel Operation of Alternators

14-03-2020

The complete material of unit IV prepared by me according to the syllabus is shared with the students along with the numerical problems.

Assignment consisting of different models of numerical problems

Google classroom

Students can access the material shared with them through the Google classroom. By conducting the assignments and Quiz tests based on the shared material, the students' capability in understanding the content and their assessment is evaluated which enables me to think other modes of reaching the students to prepare the students for the end exam. Students can answer 70 to 90% of the assignments and quiz exams in the already conducted one.

26-03-2020

Google classroom

03-04-2020

Quiz Exam

Google classroom

04-04-2020

The complete material of unit V prepared by me according to the syllabus is shared with the students along with the numerical problems.

Assignment-I consisting of different models of numerical problems

Google forms

08-04-2020

Assignment-II consisting of different models of numerical problems

Google forms

09-04-2020

Quiz Exam-I

Google forms

10-04-2020

Quiz Exam-II

Google forms

11-04-2020

 

Google forms

Synchronous Motors

11-04-2020

Sharing of Unit VI material through Google classroom

 

Google classroom

13-04-2020

Assignment-I consisting of different models of numerical problems

Google forms

14-04-2020

Assignment-II consisting of different models of numerical problems

Google forms

15-04-2020

Quiz Exam-I

Google forms

16-04-2020

Quiz Exam-II

Google forms

2

Digital Electronics

A.CHANDRA SEKHAR

Sequential circuits

29-03-2020

Study material shared

Online Assignment

Google classroom

All students will submit by 14-4-2020

Design of sequential circuits

31-03-2020

Material shared, and cleared doubts to some students through phone calls

Online Assignment

Google classroom

All students will submit by 14-4-2020

ASM charts and PLDs

02-04-2020

Material shared and give suggestions to follow some YouTube channels

Online Assignment

Google classroom

All students will submit by 14-4-2020

Sequential circuits

05-04-2020

Shared important PPT's and study material

Online quiz 1 and 2

Google forms

Out of 60 students, 53 students have attempted the exam

Design of sequential circuits

10-04-2020

Shared important PPT's and study material

Online quiz 1 and 2 proposed to conduct

Google forms

To be expected

ASM charts and PLDs

12-04-2020

Shared important PPT's and study material

Online quiz 1 and 2 proposed to conduct

Google forms

To be expected

Sequential circuits and design

Completed 

Study material shared

 

Classroom projector and BB

 

Digital electronics

30-30-2020

Shared previous exam QPs

As reference model QPs

Google classroom

all are following

3

Control Systems

A.VIJAY KUMAR

Introduction to Compensators

28-03-2020

Video Lecture in G-Classroom along with presentations and Lecture Notes

Assignment-1: Group Assignment consisting of Definitions

Google classroom

Students can access the material shared with them through the Google classroom. By conducting the assignments and Quiz tests, the students' capability in understanding the content and their assessment is evaluated which enables me to think other modes of reaching the students to prepare the students for the end exam. Students can answer the assignments and quiz exams with a 90% success rate.

Design of Compensators

29-03-2020

Assignment-2: Group Assignment consisting of Tutorial Problems

Google classroom

Tutorial problems on compensators

31-03-2020

Quiz-1 & 2

Google Forms

4

Power Systems-I

K.MAHESH

Power factor correction

29-03-2020

Zoom video lecture

Assignment and quiz test

Google forms

Students have been attended zoom meetings and doubts sessions. Out of 65 students 63 were present the assessment in the Online quiz test.

Voltage control equipment

31-03-2020

Assignment and quiz test

Google forms

Traveling waves speed, reflection & refraction of waves

05-04-2020

Assignment and quiz test

Google forms

Attenuation and distortion of waves

09-04-2020

Assignment and quiz test

Google forms

5

Analog Electronics-II

R. GANESH

PLL OPERATION

05-04-2020

Zoom video lecture

Assignment and quiz test

Google forms

All the students except 2 or 3 everyone following

Filters introduction

05-04-2020

Assignment and quiz test

Google forms

Filter classifications first & second order filter

05-04-2020

Assignment and quiz test

Google forms

Higher-order filter and classification and Design process

08-04-2020

Assignment and quiz test

Google forms

Introduction

10-04-2020

 
 

DAC

10-04-2020

Assignment and quiz test

Google forms

ADC

10-04-2020

Assignment and quiz test

Google forms

Problem Discussion

11-04-2020

 
 
Section-B
S.No

Name of the course

Name of the Faculty

Name of the Topic

Date of Conduction

TLP Used

Type of Assessment

Assessment Tools

Outcomes

1

Electrical Machines-II

V DHANUNJAYA

Regulation of synchronous generators

16-03-2020

The complete material of unit IV prepared by me according to the syllabus is shared with the students along with the numerical problems.

 

Google classroom

The complete material of unit IV prepared by me according to the syllabus is referred by students and given the freedom to clarify doubts through calls also. Some of the numerical problems are solved such that students can figure out different expected numerical problems.

Parallel operation of alternators

16-03-2020

 

Google classroom

The complete material of unit V prepared by me according to the syllabus is referred by students and given the freedom to clarify doubts through calls also. Some of the numerical problems are solved such that students can figure out different expected numerical problems.

Parallel operation of alternators

05-04-2020

Assignment-I consisting of different models of numerical problems

Google forms

Students were able to answer the asked questions

Parallel operation of alternators

07-04-2020

The complete material of unit V prepared by me according to the syllabus is shared with the students along with the numerical problems.

Assignment-II consisting of different models of numerical problems

Google forms

Students were able to answer the asked questions

Parallel operation of alternators

10-04-2020

Quiz Exam-I

Google forms

Students were able to answer the asked questions

Parallel operation of alternators

11-04-2020

Quiz Exam-II

Google forms

Students were able to answer the asked questions

Synchronous Motors

16-03-2020

The complete material of unit VI prepared by me according to the syllabus is shared with the students along with the numerical problems.

 

Google classroom

The complete material of unit VI prepared by me according to the syllabus is referred by students and given the freedom to clarify doubts through calls also. Some of the numerical problems are solved such that students can figure out different expected numerical problems.

Synchronous Motors – part 1

05-04-2020

Zoom videos- YouTube channel

Online Assessment

Google classroom

Students are watching my online video lectures and attempting assignments which I have given to them

Synchronous Motors – part 2

08-04-2020

Online Assessment

Google classroom

Students are watching my online video lectures and attempting assignments which I have given to them

Synchronous Motors

13-04-2020

Assignment-I consisting of different models of numerical problems

Google forms

Students were able to answer the asked questions

Synchronous Motors

15-04-2020

Quiz Exam-I

Google forms

Students were able to answer the asked questions

2

Digital Electronics

K HAREESH KUMAR

Sequential circuits

29-3-2020

Study material shared

Online Assignment-

Google classroom

All students will submit by 14-4-2020

Design of sequential circuits

31-03-2020

Material shared, and cleared doubts to some students through phone calls

Online Assignment-

Google classroom

All students will submit by 14-4-2020

ASM charts and PLDs

02-04-2020

Online Assignment-

Google classroom

All students will submit by 14-4-2020

Sequential circuits

05-04-20

Shared important PPT's and study material

Online quiz 1 and 2

Google forms

Out of 60 students, 53 students have attempted the exam

Design of sequential circuits

10-04-2020

Online quiz 1 and 2 proposed to conduct

Google forms

To be expected

ASM charts and PLDs

12-04-2020

online quiz 1 and 2 proposed to conduct

Google forms

To be expected

Sequential circuits and design

Completed in the classroom only

 

Classroom projector and BB

 

Digital electronics

30-03-2020

Shared previous exam QPs

as a reference model QPs

Google classroom

All are following

3

Control Systems

A.VIJAY KUMAR

Introduction to Compensators

28-03-2020

Video Lecture in G-Classroom along with presentations and Lecture Notes

Assignment-1: Group Assignment consisting of Definitions

Google classroom

Students can access the material shared with them through the Google classroom. By conducting the assignments and Quiz tests, the students' capability in understanding the content and their assessment is evaluated which enables me to think other modes of reaching the students to prepare the students for the end exam. Students can answer the assignments and quiz exams with a 90% success rate.

Design of Compensators

29-03-2020

Assignment-2: Group Assignment consisting of Tutorial Problems

Google classroom

Tutorial problems on compensators

31-03-2020

Quiz-1 & 2

Google Forms

4

Power Systems-I

K RAMAKRISHNA

Power factor correction

29-03-2020

Zoom video lecture

Assignment and quiz test

Google forms

Students attended zoom meetings and doubts sessions. Out of 60 students 57 were present the assessment in the online quiz test.

Voltage control equipment

31-03-2020

Assignment and quiz test

Google forms

Traveling waves speed, reflection & refraction of waves

05-04-2020

Assignment and quiz test

Google forms

 Attenuation and distortion of waves

09-04-2020

Assignment and quiz test

Google forms

5

Analog Electronics-II

R. GANESH

PLL OPERATION

05-04-2020

Zoom video lecture

Assignment and quiz test

Google forms

All the students except 2 or 3 everyone following

Filters introduction

05-04-2020

Assignment and quiz test

Google forms

Filter classifications first & second order filter

05-04-2020

Assignment and quiz test

Google forms

Higher-order filter and classification and Design process

08-04-2020

Assignment and quiz test

Google forms

introduction

10-04-2020

 
 

DAC

10-04-2020

Assignment and quiz test

Google forms

ADC

10-04-2020

Assignment and quiz test

Google forms

Problem Discussion

11-04-2020

 
 
Section-A:
S.No

Name of the course

Name of the Faculty

Name of the Topic

Date of Conduction

TLP Used

Type of Assessment

Assessment Tools

Outcomes

1

Computer Methods in Power Systems

K.SANTHOSH

1.STEADY STATE STABILITY

03-04-2020

Zoom videos- Youtube channel

Online assessment

Google classroom

Students are watching my online video lectures and attempting assignments that I have given to them in two slots and they have written Two quiz exams which I have conducted through Google Forms and the Results are kept with me.

2.TRANSIENT STABILITY

05-04-2020

Zoom videos- Youtube channel

Online assessment

Google classroom

3.EQUAL AREA CRITERION

05-04-2020

Zoom videos- Youtube channel

Online assessment

Google classroom

4. Methods to improve steady-state and transient stabilities

05-04-2020

Zoom videos- Youtube channel

Online assessment

Google classroom

5. Assignment-1

16-03-2020

 

Online assessment

Google Classroom

Scanned copy of Assignments taken through pdf forms

6.Assignment -2

07-04-2020

 

Online assessment

Whats App

Scanned copy of Assignments taken through pdf forms

7.Quiz -1

03-04-2020

 

Online assessment

Google Forms

Students were able to answer the asked questions

8. Quiz-2

07-04-2020

 

Online assessment

Google Forms

Students were able to answer the asked questions

9.Doubts clarification session

10-04-2020

Zoom videos

Online assessment

Zoom videos- Youtube channel

Students can able to clear their doubts in the subject

2

Electrical Measurements

R.MUNEESHWAR

1. Unit 4: Principle and operation of D.C. Crompton's potentiometer

30-03-2020

Zoom videos- Youtube channel

Online assessment

Google classroom

Students are learn shared my materials and online video lectures and attempting assignments and they have written Two quiz exams which I have conducted through Google Forms and the Results are kept with me.

2. Unit4: Wheatstone's bridge Carey Foster's bridge, Kelvin's double bridge

01-04-2020

Zoom videos- Youtube channel

Online assessment

Google classroom

3. Unit5: Maxwell Inductance Bridge, ANDERSON BRIDGE

01-04-2020

Zoom videos- Youtube channel

Online assessment

Google classroom

4. Unit5: Study material shared

03-04-2020

Google classroom and cleared doubts to some students through phone calls.

Online assessment

Google classroom

5. Assignment-1: I have already conducted an exam

 
 
 
 
 

6.Assignment -2:

30-03-2020

 

Online assessment

Google classroom- Whats App

Students submitted Assignments through mail

7.Quiz -1

03-04-2020

 

Online assessment

Google Forms

Students were able to answer the asked questions

8. Quiz-2

10-04-2020

 

Online assessment

Google Forms

Students were able to answer the asked questions

9.Doubts clarification session

10-04-2020

zoom

Online assessment

Zoom videos- Youtube channel-Shared materials

Students can able to clear their doubts in the subject

3

Power Semi-Conductor Drives

D.GIREESH KUMAR

U3: Chopper fed drives

17/03/2020

Self-prepared softcopy of material shared through Google classroom

Assignment and QUIZ

Google class

A maximum number of students scored more than 80% of marks in the QUIZ assessments (4=quizzes) conducted online. 63 students out of 70 submitted the Assignments (4 No's).

U4: Control AC Drives

20/03/2020

Self-prepared softcopy of material shared through Google classroom

Assignment and QUIZ

Google class

U4 & U5

24/03/2020

QUIZ-2 Questions (60 questions) with answers and Assignment-2 (for 2- Groups) Questions.

Assignment and QUIZ

Google class

U4 & U5

26/03/2020

4 & 5 Textbook material and solving problems

Assignment and QUIZ

Google class

U4

27/03/2020

Conduct QUIZ-2 _Test-1

Assignment and QUIZ

Google class

U4: Stator frequency control

29/03/2020

Zoom Video

Assignment and QUIZ

Google class

U4: V/f control of Induction motor drive

30/03/2020

Zoom Video

Assignment and QUIZ

Google class

U4: VSI fed induction motor drive

31/03/2020

Zoom Video

Assignment and QUIZ

Google class

U4: CSI fed induction motor drive

02/04/2020

Zoom Video

Assignment and QUIZ

Google class

U4: Closed-loop control of VSI & CSI fed induction motor drives

03/04/2020

Zoom Video

Assignment and QUIZ

Google class

U4: Conventional rotor resistance control

04/04/2020

Zoom Video

Assignment and QUIZ

Google class

U4: Static rotor resistance control of IM

05/04/2020

Zoom Video

Assignment and QUIZ

Google class

U4: Static kramer drive

06/04/2020

Zoom Video

Assignment and QUIZ

Google class

U4: Static scherbius drive

07/04/2020

Zoom Video

Assignment and QUIZ

Google class

U4: Sub synchronous & super synchronous operation of scherbius drive

08/04/2020

Zoom Video

Assignment and QUIZ

Google class

U5: Separate & self-control of a synchronous motor drive

09/04/2020

Zoom Video

Assignment and QUIZ

Google class

U5: Load commutated syn motor drive

10/04/2020

Zoom Video

Assignment and QUIZ

Google class

U5: VSI fed syn motor drive

11/04/2020

Zoom Video

Assignment and QUIZ

Google class

U5: Constant marginal angle control

12/04/2020

Zoom Video

Assignment and QUIZ

Google class

U5: PWM control schemes

13/04/2020

Zoom Video

Assignment and QUIZ

Google class

4

Microprocessors and Micro Controllers

K. RAMA

1.Unit-4

30-03-2020

Study material shared

Online Assignment-1

Google classroom

Students submitted Assignments through mail

2.Unit-4

30-03-2020

Study material shared

Online Assignment-2

Google classroom

Students submitted Assignments through mail

3.Unit-5

31-03-2020

Material shared, and cleared doubts to some students through phone calls

Online Assignment-1&2

Google forms

Students attempted for 15 questions

5.UNIT-4

04-04-2020& 05-04-2020

Shared important PPT's and study material

Online QUIZ-1& Online QUIZ-2

Google forms

130 responses got from students out of 140, and 2 more students, sent personally through WHATS APP for Quiz1 & 133 responses got from students out of 140, and 2 more students, sent personally through WHATS APP for Quiz2.

 
 
 

6.UNIT-5

11-04-2020

Shared important PPT's and study material

Proposed to conduct an online quiz-1

Google forms

To be expected

 
 
 

7.UNIT-5

12-04-2020

Shared important PPT's and study material

Proposed to conduct an online quiz-2

Google forms

To be expected

5

Professional Elective-2
Neural Networks and Fuzzy Logic

Dr. N.BHOOPAL

Unit-4

20-02-2020

Associative memories

Video and materials

All the units materials and soft of ANN book -applications of subject videos-content videos-final exam important questions 50number uploaded through Google class room-final exam expected numerical problems & solutions Google class-assignments through Google class- online quizzes conducted through Google forms & classroom

1. Students are writing online exams

2.The assignment also submitting scanned copies via email and Whats App -group mail

Unit-5

06-03-2020

Fuzzy logic

Video and materials

Final exam expected theory questions assignments

27-03-2020

Final exam expected theory questions & assignments

Assignment-mid2

Test-quiz 21 & 22

30-03-2020

&08-04-2020

Quiz

Quiz test online assessment conducted

6

Professional Elective-3
Electrical Distribution Systems

N.RAMCHANDER

UNIT IV: PROTECTIVE DEVICES & CO‐ORDINATION

02-04-2020

Notes and videos shared through email, Whats App

Quiz test online assessment conducted

Google Forms

1. Students are writing online exams

2.The assignment also submitting scanned copies via email.

UNIT IV: PROTECTIVE DEVICES & CO‐ORDINATION

04-04-2020

Notes and videos shared through email, Whats App

Quiz test online assessment conducted

Google Forms

UNIT V: VOLTAGE CONTROL & POWER FACTOR IMPROVEMENT

06-04-2020

Notes and videos shared through email, Whats App

Quiz test online assessment conducted

Google Forms

UNIT V: VOLTAGE CONTROL & POWER FACTOR IMPROVEMENT

08-04-2020

Notes and videos shared through email, Whats App

Quiz test online assessment conducted

Google Forms

 
Section-B:
S.No

Name of the course

Name of the Faculty

Name of the Topic

Date of Conduction

TLP Used

Type of Assessment

Assessment Tools

Outcomes

1

Computer Methods in Power Systems

Dr K RAYUDU

1.STEADY STATE STABILITY

03.04.2020

Zoom videos/ Youtube channel

Online Assessment

Google classroom

Students are watching my online video lectures and attempting assignments which I have given to them in two slots and they have written Two quiz exams which I have conducted through Google Forms and the Results are kept with me.

2.TRANSIENT STABILITY

05.04.2020

Zoom videos/ Youtube channel

Online Assessment

Google classroom

3.EQUAL AREA CRITERION

05.04.2020

Zoom videos/ Youtube channel

Online Assessment

Google classroom

4. Methods to improve steady-state and transient stabilities

05.04.2020

Zoom videos/ Youtube channel

Online Assessment

Google classroom

5. Assignment-1

16.03.2020

 

Online Assessment

Google Classroom

Scanned copy of Assignments taken through pdf forms

6.Assignment-2

07.04.2020

 

Online Assessment

Whatsapp

Scanned copy of Assignments taken through pdf forms

7.Quiz-1

03.04.2020

 

Online Assessment

Google Forms

Students were able to answer the asked questions

8.Quiz-2

07.04.2020

 

Online Assessment

Google Forms

Students were able to answer the asked questions

9.Doubts clarification session

10.04.2020

zoom

Online Assessment

Zoom Videos / Youtube channel

Students can able to clear their doubts in the subject

2

Electrical Measurements

Y.VIJAY KUMAR

1. Unit 4: Principle and operation of D.C. Crompton's potentiometer

30-03-2020

Zoom videos- Youtube channel

Online assessment

Google classroom

Students are learn shared my materials and online video lectures and attempting assignments and they have written Two quiz exams which I have conducted through Google Forms and the Results are kept with me.

2. Unit4: Wheatstone's bridge Carey Foster's bridge, Kelvin's double bridge

01-04-2020

Zoom videos- Youtube channel

Online assessment

Google classroom

3. Unit5: Maxwell Inductance Bridge, ANDERSON BRIDGE

01-04-2020

Zoom videos- Youtube channel

Online assessment

Google classroom

4. Unit5: Study material shared

03-04-2020

Google classroom and cleared doubts to some students through phone calls.

Online assessment

Google classroom

5. Assignment-1: I have already conducted an exam

 
 
 
 
 

6.Assignment -2:

30-03-2020

 

Online assessment

Google classroom- Whats App

Students submitted Assignments through mail

7.Quiz -1

03-04-2020

 

Online assessment

Google Forms

Students were able to answer the asked questions

8. Quiz-2

10-04-2020

 

Online assessment

Google Forms

Students were able to answer the asked questions

3

Power Semi-Conductor Drives

MD JANI PASHA

1 Unit -4

30.03.2020

Youtube classes prepared by D Gireesh Kumar and material is shared in Google classroom

Assignment-1

Google classroom

Students submitted Assignments on 07-04-20 through Google classroom

2 Unit -4

30.03.2020

Youtube classes prepared by D Gireesh Kumar and material is shared in Google classroom

Assignment-2

Google classroom

3 Unit -5

30.03.2020

Youtube classes prepared by D Gireesh Kumar and material is shared in Google classroom

Assignment-1

Google classroom

4 Unit -5

30.03.2020

Youtube classes prepared by D Gireesh Kumar and material is shared in Google classroom

Assignment-2

Google classroom

4

Microprocessors and Micro Controllers

K. RAMA

1.Unit-4

30-03-2020

Study material shared

Online Assignment-1

Google classroom

Students submitted Assignments through mail

2.Unit-4

30-03-2020

Study material shared

Online Assignment-2

Google classroom

Students submitted Assignments through mail

3.Unit-5

31-03-2020

Material shared, and cleared doubts to some students through phone calls

Online Assignment-1&2

Google forms

Students attempted for 15 questions

5.UNIT-4

04-04-2020& 05-04-2020

Shared important PPT's and study material

Online QUIZ-1& Online QUIZ-2

Google forms

130 responses got from students out of 140, and 2 more students, sent personally through WHATSAPP for Quiz1 & 130 responses got from students out of 140, and 2 more students, sent personally through WHATSAPP for Quiz2.

5

Professional Elective-2
Neural Networks and Fuzzy Logic

UNIT-4: Associate Memories

3-16-2020

Shared important PPT's, PDF's, study material and YouTube Videos

online quiz-1

Google forms

Students are studying and watching my reference video lectures and attempting assignments which I have given to them in two slots and they have written Two quiz exams which I have conducted through Google Forms and the Results are kept with me.

.UNIT-5: Fuzzy Logic

03-20-2020

Shared important PPT's, PDF's, study material and YouTube Videos

online quiz-2

Google forms

Students are studying and watching my reference video lectures and attempting assignments which I have given to them in two slots and they have written Two quiz exams which I have conducted through Google Forms and the Results are kept with me.

6

Professional Elective-3
Electrical Distribution Systems

A MURALI

UNIT IV: PROTECTIVE DEVICES & CO‐ORDINATION

24.03.2020

Notes and videos shared through email, Whatsapp

quiz test online Assessment conducted

Google forms

1. Students are writing online exams 2.Assignment also submitting scanned Copies via email.

UNIT IV: PROTECTIVE DEVICES & CO‐ORDINATION

24.03.2020

Notes and videos shared through email, Whatsapp

quiz test online Assessment conducted

Google forms

UNIT V: VOLTAGE CONTROL & POWER FACTOR IMPROVEMENT

03.04.2020

Notes and videos shared through email, Whatsapp

quiz test online Assessment conducted

Google forms

UNIT V: VOLTAGE CONTROL & POWER FACTOR IMPROVEMENT

03.04.2020

Notes and videos shared through email, Whatsapp

quiz test online Assessment conducted

Google forms