Electrical engineering is concerned with the study and use of electricity, electronics, and electromagnetic, and is mostly concerned with large-scale electrical systems, power transmission, and motor control. Electrical engineering has progressed from Edison and Tesla's basic electric circuits through Bode and Nyquist's rocket science to the intricacy of IC, satellites, and communication networks. The demand for electrical energy in our country is rapidly expanding, necessitating the need for increased power generation. As a result, electrical engineers' roles are becoming increasingly crucial in today's world.
Department of EEE have the resources to give aspiring engineers with the training and expertise they need to make a significant contribution in this field. Initially, the curriculum offers students with a broad foundation upon which they may build their particular expertise. Professional engineers with a strong working understanding of analogue, digital, and power electronics, electrical machines, and power systems, with an emphasis on applications, have been produced in recent years. With well-equipped laboratories and a staff of skilled and motivated teaching members, the Department has an outstanding infrastructure to establish a pleasant academic atmosphere in which to offer quality education.
The department features a well-developed Research & Development facilities that is led by experienced academics. It also has a sufficient number of technically qualified and self-motivated personnel. The Department has strong ties with industry, and one of the benefits for our students is that they are in high demand, not only in the local market but also globally.
Objective:


EEE Department BVRIT has an MOU with M/s.EV Retron Energies India Private Limited and established Electrical Vehicles Lab. 
This EV lab is committed to the following initiatives and activities:
Design and development of lithium-ion battery packs for 2W/3W applications
Hybridization of energy sources 
e-cycles development
Thermal management of lithium-ion batteries 
Training and internship on EV technologies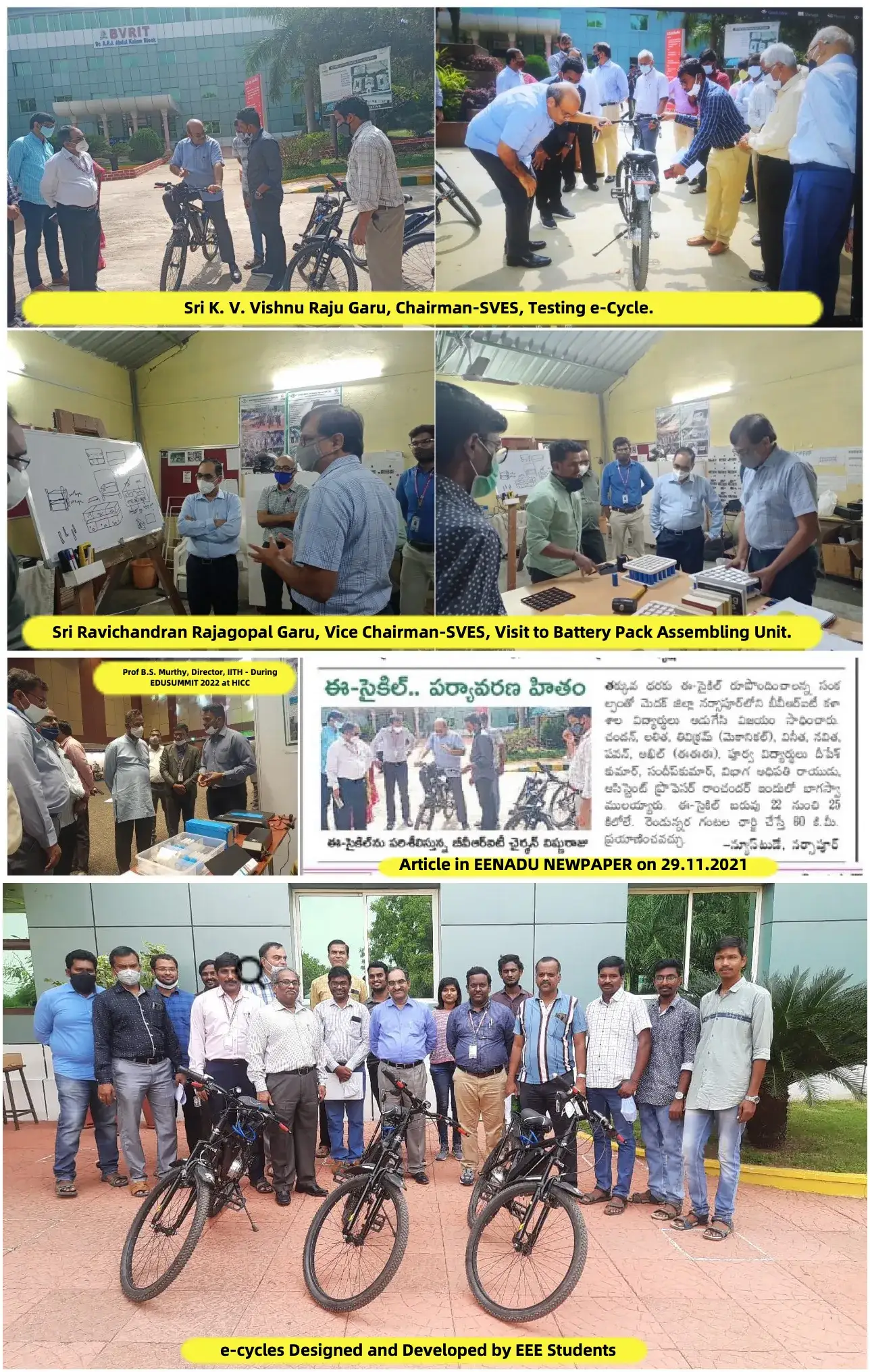 About:
Training of students in installation of the PV modules, balance of systems and instruments. The measuring instruments used for this project use cutting edge technology and have been sourced by Elkem and Titan from leading vendors in the world. The performance of the modules in terms of energy generation and so on can be monitored from any part of the world. The Governments of India & Norway had signed a protocol some years ago for the promotion of various technologies including clean and green technologies.
BVRIT as the academic partner has entered into a three way tie up with Elkem solar, Norway (Research partner) and Titan Energy Systems Ltd (Industry Partner). Elkem Solar, Norway, have developed solar grade silicon cells that are converted into photovoltaic (PV) module.
Objectives:
Exposure of students to state-of-the-art technology in terms of PV modules, measuring instruments, sensors, data acquisition with associated software and evaluation techniques
Developing the analytical skills of students by giving them an opportunity to involve themselves in a long-term performance study and interpret/analyze the data acquired
An excellent paradigm for industry, academia and R&D collaboration – a Win-Win situation for all.
Such an initiative would constitute the first step in establishing a full-fledged Centre of Excellence for Solar Energy at BVRIT.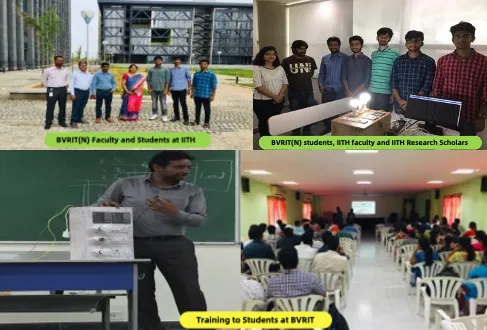 About:
Data analytics on the electrical parameters is needed in order to improve energy consumption efficiency and prevent adverse events such as power outage, short circuit etc.,. It also helps in protecting and increase the longevity of the electrical equipment. The electrical consumption data is measured usually using the multifunction meter(MFM) installed in residential or commercial buildings. In the commercial buildings, these meters are installed in the panel room (centralized) and in all floors/de- (decentralized). The extraction of data is the first step for the process of data analytics. In order to demonstrate the data retrieval process, a hardware lab set up is implemented using RS 485 communication interfaced multifunction meter (MFM). In addition to the MFM, certain modules (both hardware and software) used for the data extraction. 
Objectives:
Visualization of campus-network with real-time data
Parameters to be monitored: Voltages (R, Y, B), Voltages (RY, YB, BR), currents (R, Y, B), Frequency,active power, reactive power, apparent power of all phases, power factor of all phases, energy consumption in KWH,using, IITH indigenously developed IoT module, Modbus RTU, class 0.2s & 1, computer server, large display unit for SCADA display of the network.
Energy consumption alerting on vulnerabilities and reporting.
Open Data platform for students for performing various energy data analytics and projects on machine learning (ML), artificial intelligence (AI) applications in smart
Data collection and analysis of power distribution and eradication of unforeseen power shut off.
Outcomes:
Website for monitoring the campus energy (intranet).

Web based SCADA like display of single line diagram of entire campus.
Further displays of realtime and historical data at each monitoring point.
Plots of voltage, current, power of each metering point.
Daily Energy Consumption reports.
Weekly Energy Consumption.
Monthly Energy Consumption reports.
Email alerts:

Daily, weekly and monthly.
Over and Under voltage alerts.
Power interruption report.
Alert on the crossing of 80% of contracted maximum demand.
The following projects can be executed using the above hardware and software system
Energy consumption analysis
Data Analysis on Energy Monitoring Data
Data driven management for Energy savings
Campus Energy data Analytics
Energy Data Analytics on BVRIT campus
Energy data analysis
Data driven Energy consumption analysis
Data driven Energy consumption analysis for Reducing Tariff
Data driven load scheduling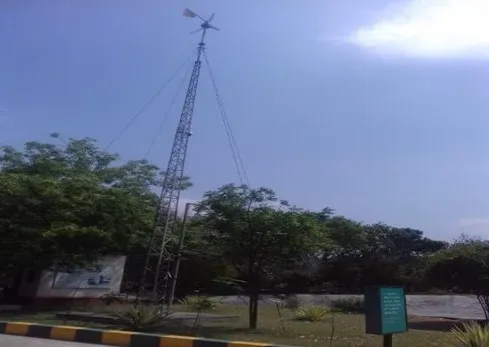 Vision:
To combine four different technologies, namely a wind solar hybrid system, a submersible motor pumping system, a street light system, and a drip irrigation system, into a full solution for a horticulture farmer, therefore benefiting both the farmer and society as a whole.
Objectives:
365 days uninterrupted, high-quality power.
Power that is clean and does not pollute the environment.
Agriculture labour expenses are reduced.
No motors will be burned by low-quality electricity caused by voltage fluctuations.
Saves 25% of the water needed for irrigation.
Produces a 25% to 50% increase in crop output.
Reduce global warming, conserve water, and boost horticultural crop yields.
Description:
The photovoltaic array consists of two 30V 8A panels interconnected in parallel. The planned photovoltaic system has a total capacity of 480W. The photovoltaic effect turns solar energy into electric energy, yielding DC voltage as a result. The output DC voltage is generated by a wind turbine with a total capacity of 700W and an average speed of 5m/s. The fundamental benefit of hybrid solar energy is that it collects energy from both solar and wind sources, using PV panels for solar energy and wind turbines for wind energy. Using the photovoltaic principle, a solar panel receives the sun's rays and converts them into DC electricity. And also the wind turbine revolves owing to the force of the wind, and its rotor is connected to a generator, which simultaneously rotates and produces AC electricity.
Components:
Wind mill,
Solar panels,
Charge controller,
Auto Grid change over,
Timer,
Lead acid Batteries of 150 Ah,
Inverter,
Water pump and
Lighting load.
Specifications:
CAPACITY:  1180 WATTS
WIND SYSTEM: 700WATTS, 23 A, 30 V.
PV SYSTEM:  480 WATTS, 16 A, 30 V. 
SOLAR PANELS: Number of Panels-2, EACH RATING 30V, 8A, 240W.
Research Area:
To analyze the load of Solar Wind Power Generation System with different loads.
To analyze the power generation of Solar Wind Power Generation System from environmental conditions.
To analyze the load of Solar Wind Power Generation System for different seasons.
Experimental Load Analysis of Hybrid Solar Wind Power Generation System in Comparison with MATLAB/SIMULINK.
Designing a multistage submersible motor that runs on the 850W clean power generated by WSHS unit.
Designing automated electronic circuits for battery charge controller.
Designing automated timer circuits to switch on and off the water supply to drip pipes by maintaining a pre-set pressure in the pipes.